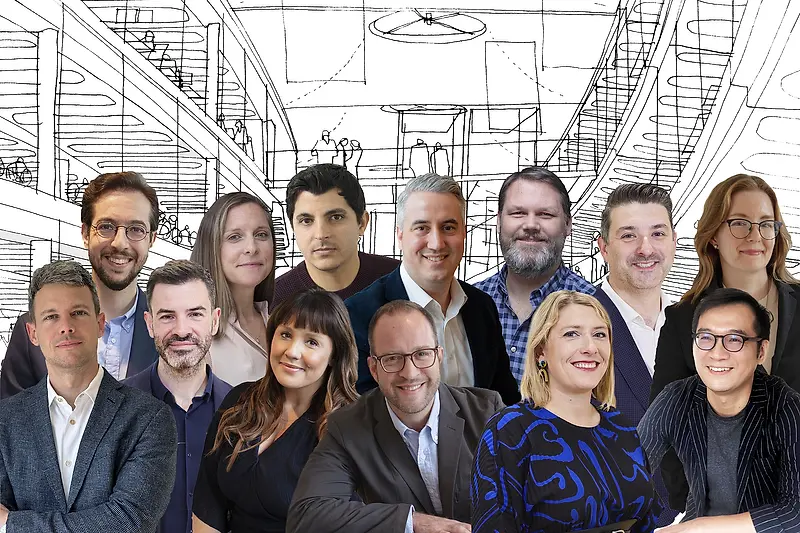 KPF Names 13 New Directors Across Three Offices
KPF is pleased to announce the promotion of 13 new Directors, in addition to 22 new Senior Associate Principals and 48 new Associate Principals across the firm's nine global offices.
"Any recognition of any person in our firm, is really a recognition of the teamwork of all those who worked with that individual to get something done," said President James von Klemperer ahead of the announcements. "Any one of us who takes credit, you really have to look around you, to the side, front, and behind." This was KPF's first in-person promotions event since 2019, with each of the firm's global offices gathering together to celebrate the accomplishments of their coworkers.
Directors
With over a decade of experience, Francesco's work engages with physical and historical context while maximizing program efficiency to meet the client's brief. He believes in the power of architecture to disclose and preserve stories. His portfolio spans a broad range of typologies and locations, including Lorenzini 8-10-12 in Milan, Urban Star in Hangzhou, and DAMAC Tower in London.
A sustainable design expert with research focused on modeling and analyzing building energy use patterns at an urban scale, Carlos has served as KPF's Environmental Design Director since 2018. Carlos leads KPFep, closely collaborating with teams to establish sustainability benchmarks and workflows that ensure projects support KPF's environmental mission, such as HKUST GZ, NYU Shanghai, and Channelside.
Over the course of Sam's career, the experience, wellness, and future success of communities has guided her design philosophy. This carries into her management approach, where she is dedicated to facilitating collaboration across design teams to deliver the best outcomes for each project. Sam has used her technical knowledge to guide projects such as Shenzhen Center, Abu Dhabi Midfield Terminal, and Heron Tower.
Frank has cultivated an expertise in the technical coordination of complex, full-service projects during his two decades of professional experience, managing the development process from initial site studies through design phases and delivery for a range of building types. With a focus on placemaking, he is always conscious of how his projects impact the surrounding urban environment. Frank has worked on the NYCHA Red Hook Houses, 725 West Randolph Street, and One Lady Bird Lake.
Javier believes that each project offers a unique opportunity for storytelling and expression, where sensitivity to place and history converge to shape responsive forms, enthralling spaces, and immersive material encounters. Since joining KPF in 2008, he has engaged in diverse projects spanning a wide breadth of programs and scales, ranging from intimate retail spaces to supertall high-rises, to expansive mixed-use urban developments, such as 520 Fifth Avenue, Plaza 66, and Window La Défense.
A skilled designer with a reputation for attention to detail, Bob brings almost two decades of experience to his role as Director. His global perspective informs his work in diverse geographic locations, including urban plans and building designs for large-scale developments such as Greenland Bund Centre, office towers including 18 Robinson, and mixed-use buildings including Parkside Uptown.
Since joining KPF in 2012, Chris has been involved in a breadth of sectors including residential, retail, leisure, and mixed-use developments in the UK and internationally. A firm believer in transformation projects, Chris enjoys exploring the narrative for the adaptive reuse of tired buildings preserving a sense of place and heritage in their revival. Chris' portfolio includes the transformation of Southbank Tower, the regeneration project One Crown Place, and Qiantan Media Port.
Reilly has over 15 years of experience as an architect and has dedicated his work to innovation in residential projects. Reilly's work is driven by his instinct for holistic design, blending interior and exterior design to create contextually sensitive and programmatically astute buildings. Dedicated to material richness, architectural craft, and thoughtful details, Reilly has contributed to a number of KPF's most recognizable residential projects, such as Arthaus, 64 University Place, and 500 West 21st Street.
Rutger brings over a decade of experience as an architect and urban designer. He has led a wide range of projects, from large-scale, mixed-use urban plans to buildings driven by office, retail, residential, and hospitality programs. Rutger's design exemplifies KPF's vision of shaping the city on a human scale, sculpted for individual activity with diverse needs and contexts, present in the design of Qianhai Kerry Centre, One Bangkok, and 64 University Place.
With over a decade of experience with KPF, Nicole is an experienced project manager whose strength lies in coordinating with external consultants and contractors to balance client visions and designer ambitions. She has honed her expertise in the execution of large-scale, full-service high-rise projects, such as Prudential Tower, and has played a role in shaping the NYC skyline with One Vanderbilt and 520 Fifth Avenue.
With over 14 years of experience in the industry, Annie is a talented designer whose background in finance contributes an analytical lens to the aesthetic development of her projects. She has developed expertise in adaptive reuse projects, such as Hudson Commons and One Madison Avenue, and appreciates their unique ability to improve the built environment while leveraging the existing, and often layered, DNA of the previous construction.
With over a decade of experience at KPF, Rachel has developed a specialization in transformative urban projects. She excels at synthesizing ideas from clients, designers, and consultants to create optimal design solutions. Through her experience with large-scale, full-service projects, such as with One Vanderbilt, Infinity Tower, and the Chengdu Tianfu Supertall, Rachel has honed her focus on placemaking's ability to infuse urban centers with new vitality.
Xiong Yi brings a global background to his role as a Director at KPF, echoed by his experience working in many of the firm's offices since joining in 2006. During his more than 15 years as a technical manager, he has been involved in the development of hotel, office, and mixed-use projects along with skyline-altering supertall towers, such as CTF Finance Centre, Greenland Bund Centre, and the Langham & Andaz Xintiandi.
Senior Associate Principals
Sibel Akcan, Patrick Cheung, Erica Cho, Shane Dai, Shaoxuan Dong, Sam Edward, Ozlem Ergen, Alison Flaherty, Charles Gibault, Simon Gomm, Fredy Holzer Feliu, Wei Hu, Georgina Lalli, Amy Langford, Louis Li, Devon Loweth Babel, Luke Lu, Veronica Quintero, Steven Smolyn, Sean Stadler, Martin Wilding, Simon Wimble, Zheng Wu.
Associate Principals
Elias Anka, Chandler Archbell, Orkun Beydagi, Scarlett Chang, Sijie Chen, Sizhe Chen, Wenxin Chen, Zhencheng Cui, Michael DeGirolamo, Oriol Diaz Ibanez, Luan Feng, Sydney Hamner, Aaron Ho, Priscilla Ho, Wenqi Huang, Gerald Huber, Maria Hurtado Ortiz, Alex Huseman, Vasilis Ilchuk, Juan Jimenez, Nitzan Koren, Chao Liu, Victor Llavata Bartual, James Ma, Karim Mahmoud, Gabriel Morales Villegas, Fei Mui, Rachel Muse, Masahiro Nakamura, Kerry Ngan, Asli Oney, Gokhan Ongun, Kimberly Orrego, Sean Ostro, Katherine Ridley, Leonardo Rodriguez, Ladane-Amelie Rongere, Karin Roosemont, Steven Shi, Mengshi Sun, Edmund Tan, Olga Tarasova, Ayman Tawfeeq, Timo Wang, Xiyao Wang, Momo Wei, Vivian Yang, and Yafei (Yoyo) Zhang.