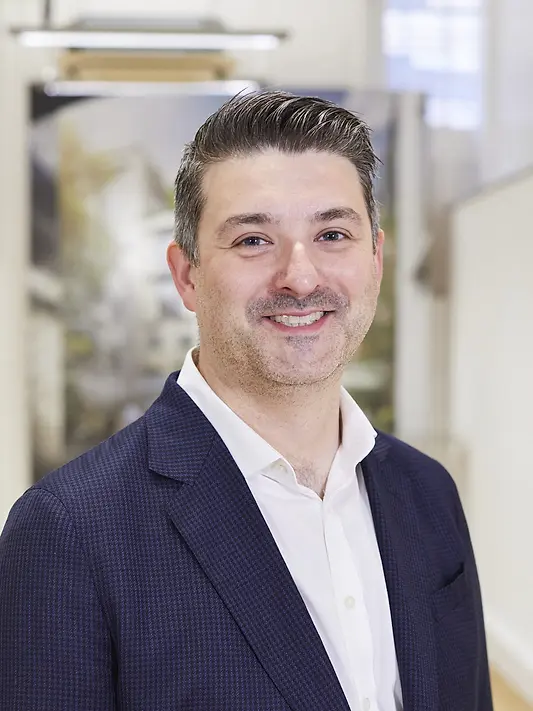 Chris Hill
Chris has a breadth of experience across many sectors that includes residential, retail, leisure, and mixed-use developments in the UK and internationally. A firm believer in transformation projects, Chris enjoys exploring the narrative for the adaptive reuse of tired buildings preserving a sense of place and heritage in their revival.
Upon joining KPF in 2012, Chris led the design advancement and delivery of the façades at Southbank Tower, a complex transformation of a 1970s tower to provide high-quality office and residential space to the neighborhood. Specific consideration and craft were exercised over the restoration and extension of the existing concrete frame to add 11 stories to the tower.
An advocate for mixed-used schemes that promote interaction and community, Chris was a lead designer on One Crown Place. Completed in 2021, the regeneration project incorporates the restoration of a historic Georgian terrace for a boutique hotel, existing office buildings, and two new residential towers. The distinctive facades are designed to complement and seek dialogue with the local context enriching the wide mix of uses and 24-7 activity promoted on the site.
Chris appreciates the opportunity for the design process to draw on a collaborative approach that utilises the expertise of the project team. For Qiantan Media Port, a mixed-use project on a riverside site in Shanghai, with consultant input computational design proved to be a pivotal asset in controlling and communicating building geometry to rationalise both the super structure and façade panels in line with the original design intent.
Within KPF, Chris plays an active role in the mentoring programme. Externally, he is a guest critic at the University of Bath, the University of Westminster, and the Architectural Association.