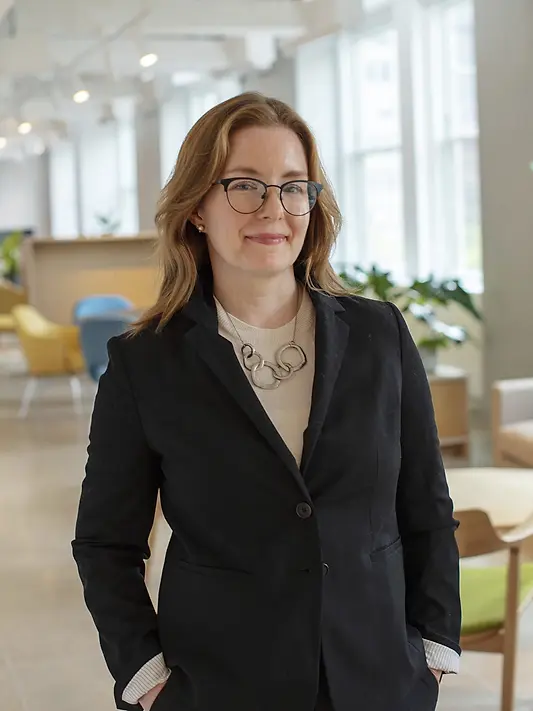 Nicole McGlinn-Morrison
With over a decade of experience with KPF, Nicole is a project manager whose strength lies in coordinating external consultants and contractors to balance client visions and designer ambitions. She has honed her expertise in the execution of large-scale, full-service, high-rise projects and played a role in shaping the New York City skyline.
Nicole believes when making design decisions for large-scale projects, every detail counts. She fosters close internal communication within her team, especially to help younger team members understand how smaller pieces contribute to the project as a whole. At One Vanderbilt, Nicole's leadership of a large team enabled KPF to create a new landmark on Manhattan's skyline with cutting-edge office space and accessible pathways to one of the city's largest transportation hubs.
Nicole's design interests lie in sustainable strategies, adaptive reuse, and urban revitalization. When leading projects within pre-existing robust city blocks, Nicole is conscious of how the schemes impact the fabric of the city. 520 Fifth Avenue is a mixed-use project situated at the intersection of commerce and culture. Its offices, high-end residential suites, and robust retail spaces are designed to catalyze sustainability, health, wellness, and connectivity.
At the Prudential Tower in Newark, New Jersey, Nicole's input helped the team reduce the environmental impact of the building, which boasts a comprehensive set of sustainable design initiatives. An advanced stormwater management strategy, combined with highly efficient fixtures, reduces water demand and saves millions of gallons of the city's yearly drinking water.
Nicole holds a Master of Architecture degree from Tulane University and is a registered architect in New York State.