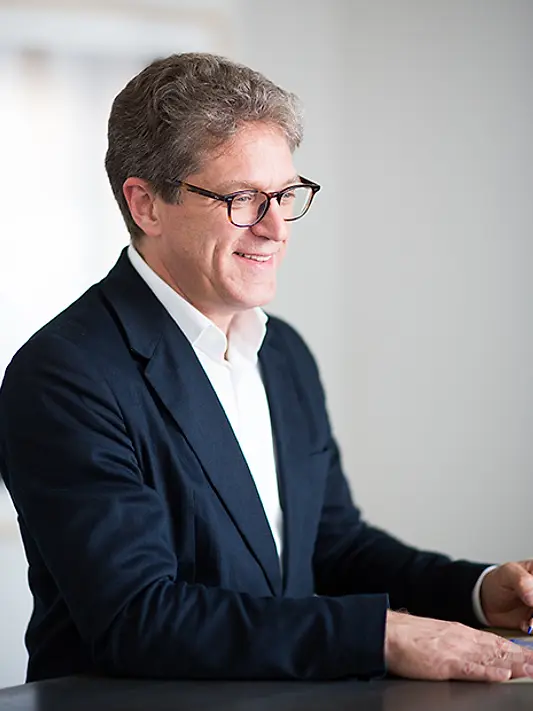 James von Klemperer
James von Klemperer is President and Design Principal at Kohn Pedersen Fox Associates where he began as a young architect in 1983. His work ranges in scale from a house to a city, and he contributes closely to these efforts from conception to completion. In addition to focusing on his own projects, he leads the community of designers within the firm in exploring shared architectural agendas and goals. As President of the firm, he is responsible for leading the staff of 630+ people in 10 offices around the world.
A major focus of Jamie's work has been to heighten the role that large buildings play in making urban space. He has explored this theme in major projects in Asia including the China Resources Tower in Shenzhen, Plaza 66 and the Jing An Kerry Centre in Shanghai, China Central Place in Beijing, and the 123-story Lotte World Tower in Seoul. In New York, his design for One Vanderbilt links Midtown's tallest office tower directly to Grand Central Terminal. Each of these projects creates strong symbiotic relationships between program space and the public realm. At the larger urban scale, his design for New Songdo City extends this challenge to the scope of urban planning.
Jamie's designs have been recognized for the marriage of efficient program with adventurous form. His Peterson Institute for International Economics in Washington DC, Dongbu Financial Center in Seoul, Park Fifth residential project in Los Angeles, Riverside 66 urban market in Tianjin, and One Vanderbilt tower have all received AIA design awards.
In London, Jamie led the design of the One Nine Elms hotel and residential towers. He has also been active on the continent, in particular in Paris, where he completed a building for the Ministry of Justice at the Parc du Millénaire and in Lyon where he is designing a series of buildings within the Part Dieu station precinct. He is currently designing a new campus in Vienna for the Central European University on the grounds of Otto Wagner's Steinhof.
Jamie has lectured at Harvard, Columbia, Tsinghua, Tongji, Seoul National, and Yonsei Universities, the ESA in Paris, AMO in Lyon, and at Yale, where he taught as a Saarinen Visiting Professor.
He received a BA from Harvard in 1979, Magna Cum Laude in History and Literature. In 1980, he was the Charles Henry Fiske Fellow at Trinity College Cambridge.
He received his MArch from Princeton in 1983. Jamie chairs the Board of Directors of the Skyscraper Museum and the Storefront for Art and Architecture, and is a Trustee of Bard College.