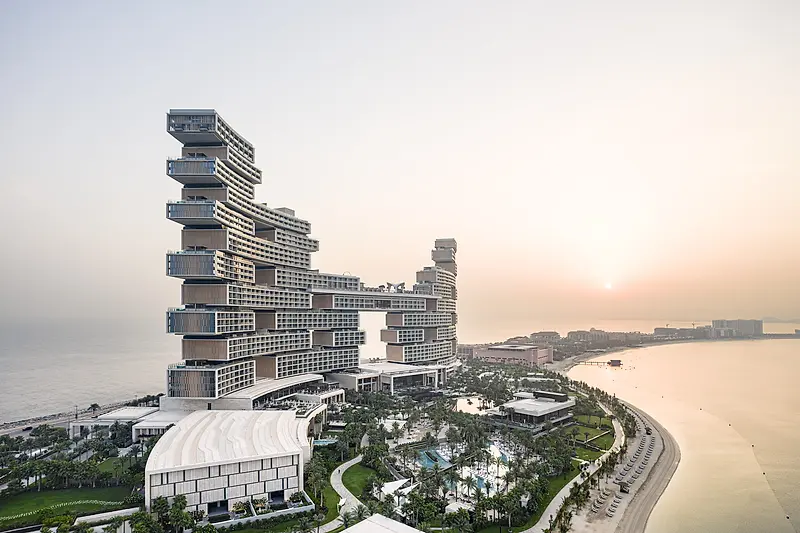 Atlantis The Royal Wins at 2023 CTBUH International Conference
The resort was named the winner in the Best Tall Building – Middle East and Africa category at the 2023 conference, themed Humanizing High Density.
One of the world's most iconic new resorts, Atlantis The Royal offers a fresh vision for luxury on Dubai's Palm Jumeirah Island, rethinking the conventional iconic sculptural tower and focusing instead on providing indoor-outdoor living in a vertical city in the sky. The 500-meter-long, 178-meter-tall mega-structure takes the form of a stack of individual blocks. In between, these spaces become naturally ventilated and shaded outdoor courts with incredible views over Dubai and the Gulf, offering a one-of-a-kind experience for residents and guests.
Multiple KPF projects took home honors at the conference: Marina Bay Financial Centre, Shenzhen Center, OCT Tower, Ziraat Bank Headquarters, and Citymark Tower all were 2023 Award of Excellence winners, with Guangzhou One Pengrui honored in the Future Projects category. A gala dinner in Singapore on October 18 was attended by multiple KPF leaders, who presented the winning projects alongside clients.
Atlantis The Royal's win follows recent recognition in the 2023 AHEAD MEA Award, where the project was honored in categories Hotel of the Year, Hotel New Build, and Landscaping & Outdoor Spaces.