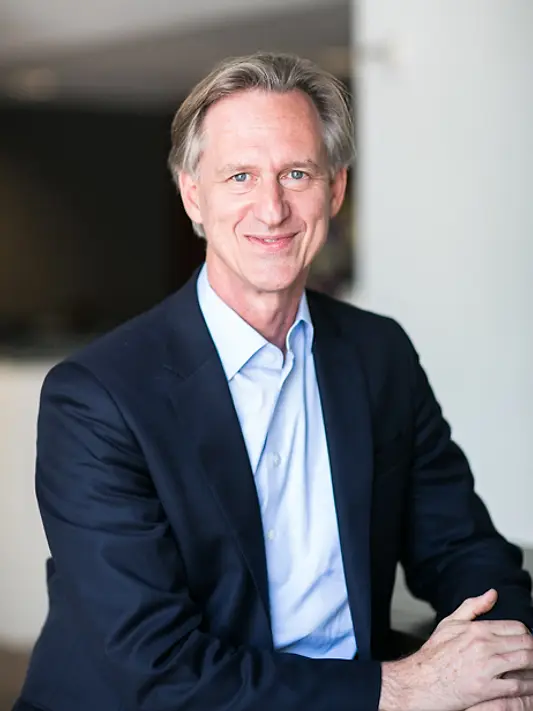 Robert C. Whitlock
Robert Whitlock's role as designer of high-rise towers, mixed-use developments, and large-scale master plans has been as much about enhancing the urban experience as about shaping individual buildings. Since beginning professional practice, he has focused on density, public space, programmatic integration, supertall building, and the influences of these elements on the quality and sustainability of the "global city."
Over the past three decades, Rob has played a pivotal role in shaping the firm's approach to large-scale, mixed-use master plans, leading the firm towards an emphasis on generating synergy and vibrancy through the design of the "multi-layered city." His designs for the Shenzhen Chegongmiao District and Greenland Bund Centre in Shanghai exemplify this, both heralding new ways of creating active urban spaces.
He is also one of the firm's foremost designers of high-rise towers, with a focus on the important role these buildings play in shaping urban space, both on the ground plane and as part of the skyline. In Hong Kong, he led the design of Hysan Place, the city's first LEED Platinum building, generating a bustling ground-level experience while placing strategic holes in the structure to provide elevated public gardens and draw prevailing breezes though the site. In Singapore, his design for 18 Robinson integrates green space vertically throughout the structure, with a faceted geometry that complements the city skyline.
A Fellow of the AIA, Robert has been an active member for more than 25 years, frequently serving as a guest lecturer and presenter at conferences including the Green Building Conference, the Ultra High Rise Building Conference, and the Smart Geometry Conference.