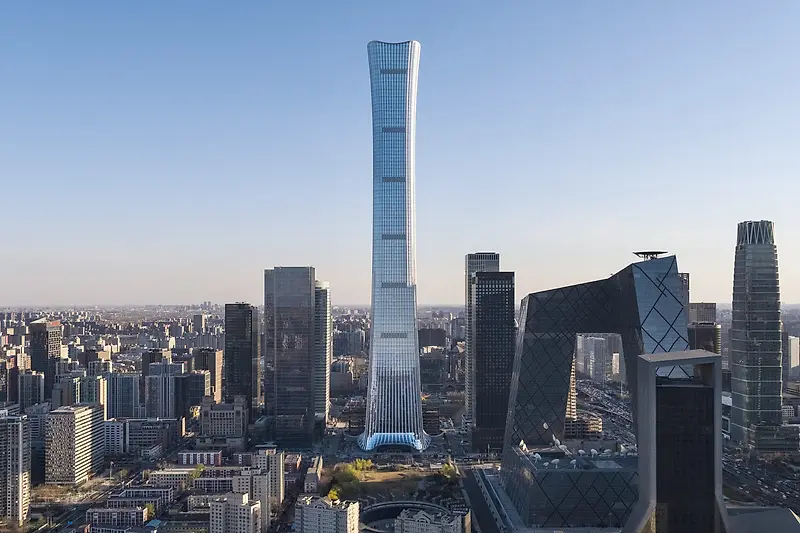 CITIC Tower is One of Beijing's Most Significant Contemporary Buildings, Says Dezeen
The KPF-designed office tower in China's capital was highlighted by the outlet for its height and sloped form.
CITIC Tower, commonly referred to as China Zun, is Beijing's tallest tower, and the fifth tallest in China, at 528 meters. The building's form is inspired by the "zun," a ceremonial vase that originated in the Bronze Age. Broader at its base than its crown, the tower utilizes its iconography with infrastructure that supports the building's integrity to account for China's seismic zone. The Dezeen article, "Ten of Beijing's Most Significant Contemporary Buildings," notes how the tower "forms the centrepiece for Beijing's new central business district."
After CITIC Tower's completion in 2019, Dezeen sat down with Design Principal Rob Whitlock and Director Li Lei to discuss the project. 'Imagining the city's tallest tower as a representation of its history and people, we approached the building as a public entity in our design," Whitlock said of the design process. Lei shared the project goal was to, 'elicit harmony with the historic capital while proposing aspirational and contemporary architecture." He explained that the team "abstracted the zun's elegant form and focused on its gradual transformation, applying this motif across immense scales: from the tower's overall massing, all the way down to its curtain wall, entry vestibule, and interior detailing."
Read the full list from Dezeenhere.