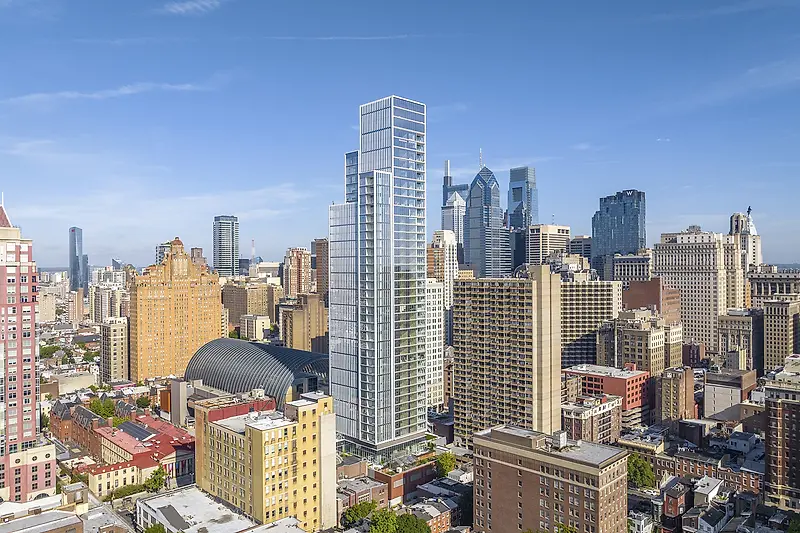 Amenity-Driven Arthaus Officially Opens in Philadelphia
With a focus on wellness and a range of amenities, the building sets a new bar for urban living.
Last month, at a ceremony hosted by Carl Dranoff, CEO of Dranoff Properties, and attended by Philadelphia Mayor Jim Kenney, Councilman Mark Squilla, and leaders from the KPF design team, the ribbon was cut on Arthaus, marking the official opening of the firm's first residential project in the city.
The condominium building sets a new bar for urban living by prioritizing health and wellbeing of residents and their guests. Arthaus incorporates a robust suite of amenities, notably an extra-large outdoor terrace with a greenhouse and planting beds as well as lounge areas and a reflecting pool. Inside, Arthaus offers a 25-meter pool, curated library, and a well-equipped yet intimate demo kitchen. Additionally, a fully enclosed terrace-level dog park and grooming facility cater to four-legged residents.
The building's residential units maximize light, air, and space with floor-to-ceiling windows, two exposures, and high ceilings. Each of the 108 apartments has access to the outdoors via at least one large balcony, a result of the project's unique pinwheel unit plan. Measuring eight feet by sixteen feet, balconies are sheltered by a windscreen, creating a private outdoor room. The spacious residences are contemporary in their design, with clean lines, elegant finishes, and top-quality fixtures.
"As an architect there is nothing more satisfying than seeing a project that you helped create become a positive addition to its city" said Josh Chaiken, KPF Design Principal. "Our design goal, which I believe we achieved, was to bring something totally new that also feels at home in Philadelphia."
At its base, brick and terra cotta feature walls along Broad and Spruce Streets relate to the material language of the neighborhood. The tower's high-performing glass façade picks up on the iconic dome of the adjacent Kimmel Center and the towers of Center City, while white aluminum mullions give the façade texture and a distinctive vertical expression. The orthogonal massing of the building culminates at the crown in four bundled rectangular volumes, each rising to a different height, creating a distinctive top and offering expansive outdoor terraces.
"I am so proud of the work that our entire team has done to realize this project. The team was made up of Lloyd Sigal, Josh Chaiken, Jonah Hansen, Romina Olivera Zuniga, Reilly Hogan and Emily Gruendel of KPF." said Gene Kohn, KPF Founder and Chairman. "I was born and raised in Philadelphia and spent many days in this very neighborhood, so this is a special moment for me, personally. It is a great area for the city, with music and the arts, and our building will represent this on the skyline of Broad Street in the years to come. To create a beautiful building like Arthaus takes a great client, and it has been a true pleasure working with Carl and the Dranoff Properties team over the years."
Arthaus is the first luxury residential skyscraper to open since the start of the pandemic, and the building's completion despite the challenges related to the pandemic are a testament to the resilience of Philadelphia, the commitment of Dranoff Properties, and the design leadership of KPF.
"This is a great moment," said Lloyd Sigal, KPF Managing Principal. "We've been close friends with Carl, Julia, and the Dranoff team for many years and are proud to see how Arthaus has come to life so beautifully, a great residential tower and a new icon on the Philadelphia skyline. Congratulations to everyone involved."
The addition of Arthaus continues to expand KPF's portfolio of residential projects, including Heron in Tampa, which completed last year, 2000 South Bell Street in Arlington, which recently broke ground, and newly-unveiled Parkmerced Block 21S in San Francisco.