Our technology and digital processes are central to the strategic development of our projects. By leveraging custom-built computational systems, real-time data analysis, immersive visualization technologies, BIM processes, and urban and environmental analytics, we achieve the most optimal, appropriate, and creative design solutions to share with our clients and the industry at large.
We enhance our internal processes with custom-built data science and machine learning tools to meet the aspirations of our clients and advance the objectives of the cities in which we practice.
Digital Practice
KPF's global Digital Practice team comprises architects and designers with specialized skill sets who work with design teams to meet technology challenges and forge new workflows.
Our specialists support projects across all phases, providing strategic expertise and leveraging applied research in building information modelling (BIM), computational design and contemporary data-driven digital workflows. The primary strands of the Digital Practice are computational design, complex geometry creation, digital fabrication, BIM strategy and visualization.
Urban Interface
KPFui leverages spatial and temporal data and computation to investigate the foundations of city building and address rising challenges of the 21st-century city.
We promote informed decision-making and public engagement through a set of interactive, web-based tools to help the public participate in the design and development of their cities, communities, and transportation infrastructure. KPFui also builds custom tools to help individual project teams quickly explore high-performing scenarios capable of addressing some of the most critical contemporary urban topics: liveability, sustainability, and mobility.
Learn more about KPFui's research and test out the tools here.
Environmental Performance
KPF delivers healthy, resilient and sustainable projects at a global scale, working in regions facing some of the world's most significant challenges caused by urbanization and climate change.
Our dedicated design and research group, KPF Environmental Performance (KPFep), uses computational simulation tools to support evidence-based design within our teams. This helps us to understand energy demand, water use, thermal performance, and daylight access at both the building and the urban scale.
Read more about KPF's commitments to sustainability here.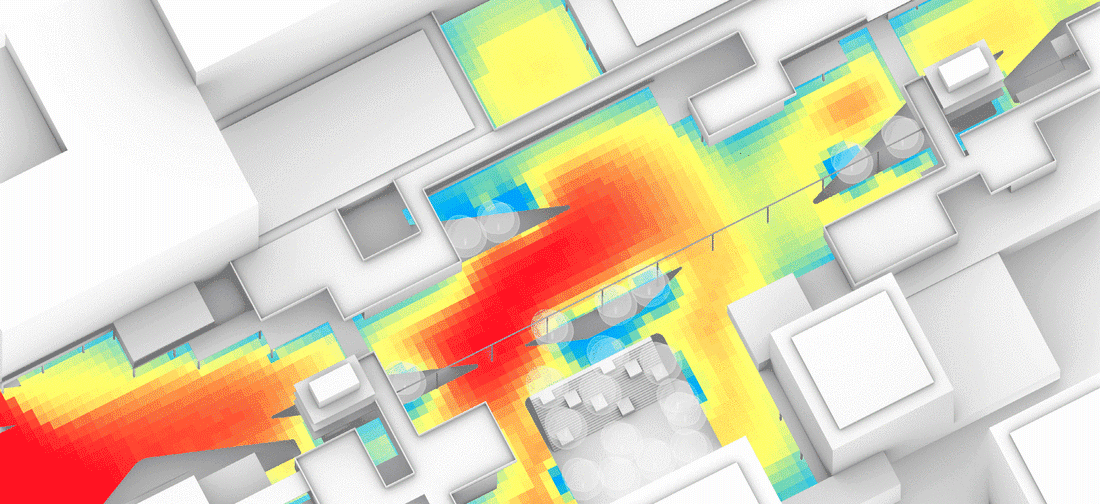 Applied Research
The Applied Research group focuses on the impact of new and emerging technologies from diverse industries, adopting and developing these to shape the way we work and live.
Our expert team strategizes with project teams and office leadership to develop and enable new processes and workflows, which ensure that our design technology enhances the design and delivery experience. In addition, we're working in partnership with external technology leaders to influence and affect the future of the wider AEC industry.
Data Science & Analytics
Through cross-disciplinary initiatives, KPF leverages data analytics, visualization, deep learning, and AI to understand and optimize our design workflows and internal business processes.
We engineer data pipelines, design dashboards, and fine tune and deploy machine learning models. To enable these efforts, we continue to invest in a state-of-the-art technology stack, including high-performance and cloud computing, and we partner with industry leaders such as NVIDIA.