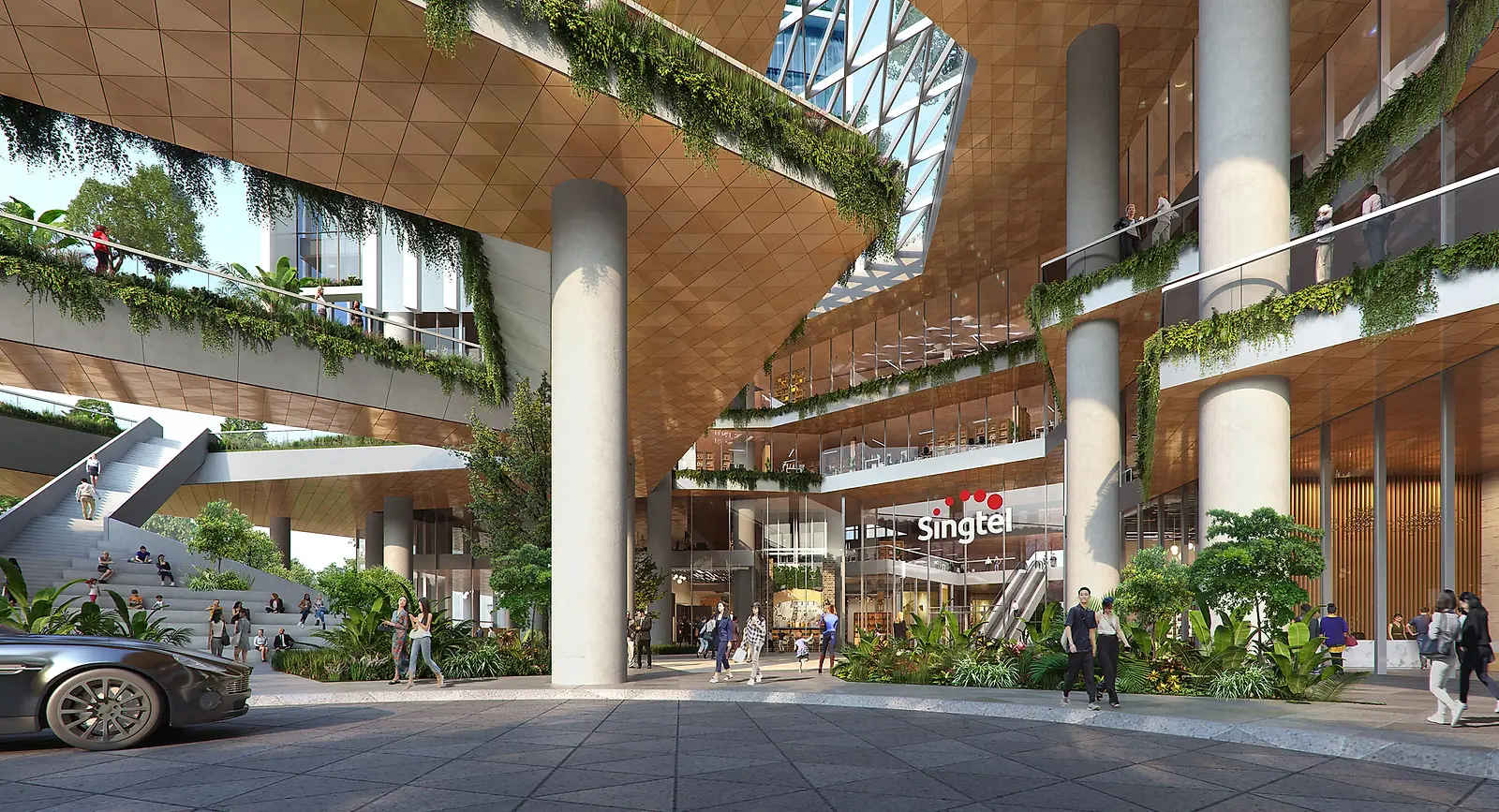 Singapore's first end-to-end carbon neutral development, Singtel Headquarters provides the telecommunications giant with elevated office space and integrates moments of landscaped serenity into the city's major retail district.
The new Headquarters for Singtel is designed as a vertical campus, with a lushly landscaped public roof offering users and the local community a place to enjoy views of Marina Bay. With a direct connection to public transit, the Singtel Headquarters welcomes users through lush landscaping and an active public realm. The development's plaza features shaded seating for the public and a dedicated vehicle drop-off. Continuing from the plaza, users can access the two office building lobbies or the central arcade, a public space located in the towers' connecting podium lined with food and beverage options and retail fronts. Spiraling upwards above the arcade, a series of stairs, voids, and a mixed-use auditorium form the heart of the new tech community for Singtel.
The incorporation of greenery throughout the project continues at the base of the towers with balconies that offer tenants outdoor space and enhance the richness and depth of the architectural character. The use of balconies also creates a visual layering that relates to the surrounding shop houses, a historical style of architecture prevalent in Singapore.
The net-zero energy project follows carbon-neutral construction practices, with sustainability efforts beginning at the design phase and continuing through completion to include everyday operation. Targeting the highest health and sustainability ratings, including BCA Green Mark Platinum and WELL Platinum, the two towers are oriented to maximize natural wind flow, optimize onsite solar generation, and increase thermal comfort levels in the public space.