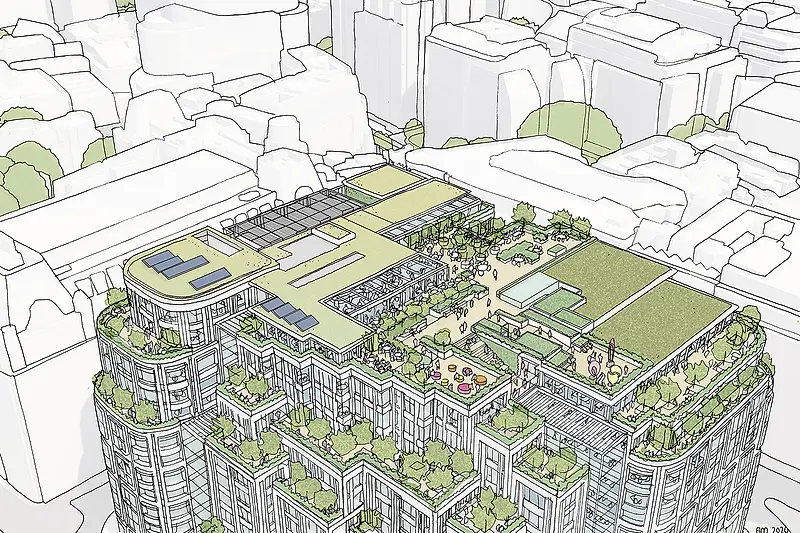 KPF Signs Up to the RIBA 2030 Challenge
As London Climate Action week starts, KPF announces furthering its commitment to sustainable design in the built environment, by accepting the RIBA 2030 Challenge. Developed by the Royal Institute of British Architects (RIBA), the challenge sets a series of targets for practices to adopt to help architects meet net zero – or better – whole life carbon for new and retrofitted buildings by 2030.
The Challenge calls for practices to record data on all of their projects for operational energy; embodied carbon; potable water use; plus, health and wellbeing. This data will be analysed to identify trends in performance, set new targets and develop guidelines for architects, clients and the wider construction industry.
'In the escalating climate crisis, we believe it is imperative to design and advocate for resilient architectural solutions that minimize both operational and embodied green-house gas emissions, and which push the boundaries of their cultural, economic, and political context,' says KPF Principal Charles Ippolito. 'By signing the RIBA 2030 challenge we are expanding our commitment to setting ambitious targets and measuring our performance against these.'
At KPF, we take an evidence-based approach to design, and with the support of KPF's Environmental Performance (KPFep) team, develop measurable performance goals for our projects and continuously track them against RIBA 2030 targets and AIA 2030 commitment goals. At KPF we consider it our duty to design lasting architectural solutions that mitigate their lifecycle impact on environmental resources and that protect and enhance the wellbeing of the communities they serve. Read our commitment to sustainability here.
Today marks the start of London Climate Action Week (LCAW). KPF is promoting this with a series of internal webinars and events to and share best practice across design teams. LCAW was launched last year by the Mayor of London, Sadiq Khan. This year it will take place in two instalments LCAW Digital, from July 1-3, and a larger event from November 14-20. Find out more here.