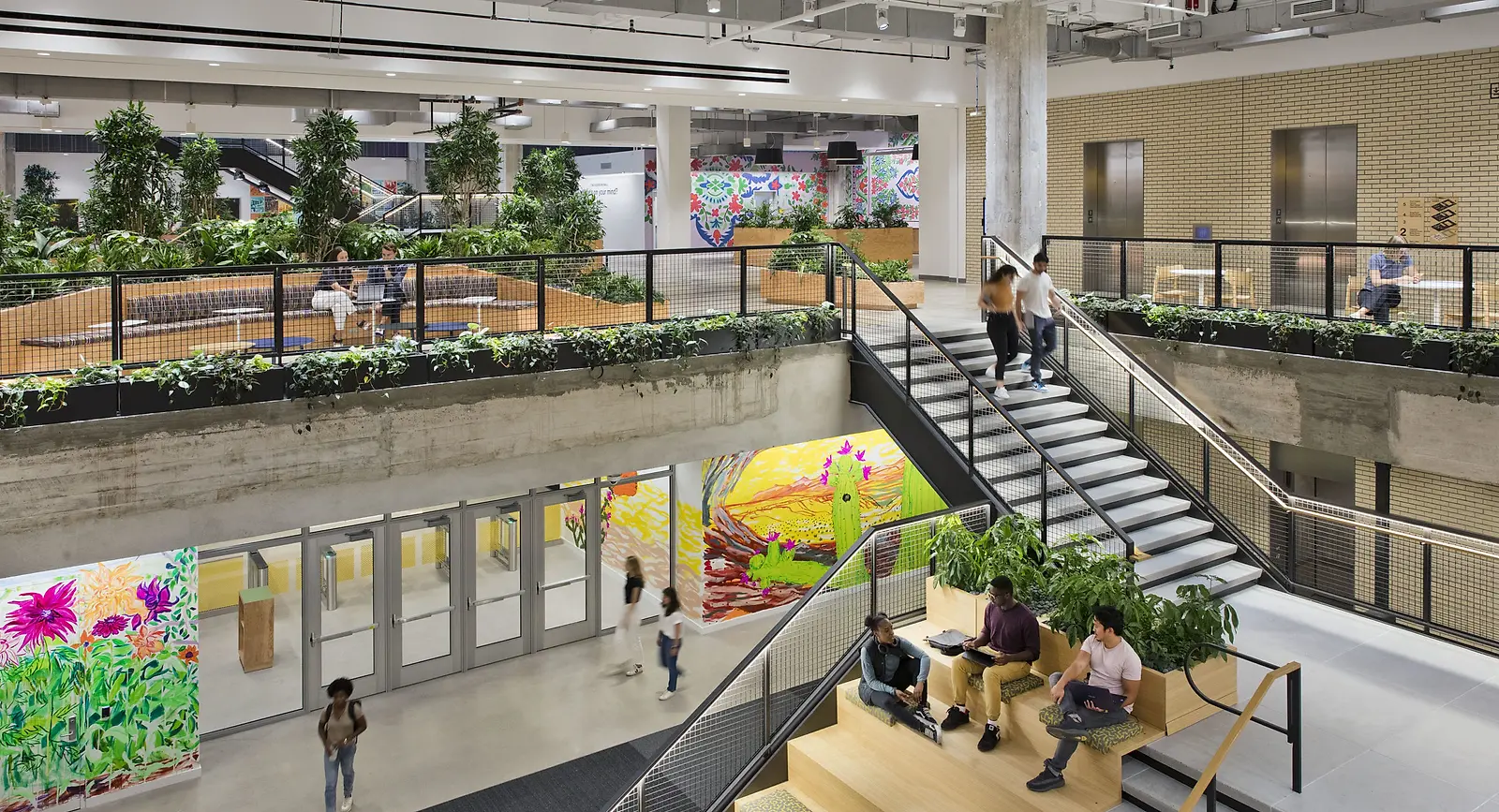 Located within the historic James A. Farley building, a former US Postal Service Office and one of New York's first landmarked buildings, Project Potomac celebrates the building's history while reinventing today's workplace to meet the needs of a large innovation company.
Inside the sprawling former main USPS branch, Meta Farley embraces the building's historic elements, such as elevator cabs, lobbies, corridors, and staircases as design inspiration for the new workplace interiors. Balancing wellness-focused workspaces and open collaboration areas, the office provides 3,500 desks and a range of breakout zones. Workplace neighborhoods are capped at 150 people to create more intimate environments across the five floors and over 700,000 square feet of office space.
To promote intuitive wayfinding, each of the five floors was designed with a particular theme that responded to a unique feature of that floor. The fourth floor embraces the origins of the building, utilizing historical materials and taking inspiration from previous details, including a fish scale pattern originally showcased on the walls now skimmed onto the concrete floors. The top floor, wrapped in landscaped terraces than span the entire double city block, exudes biophilia with a large green wall featured upon arrival. Careful matching of the historic brick was achieved and implemented in three different patterns, each specifically assigned to one elevator lobby stack, serving as a visual cue to guide people within the building upon their arrival.
Along with material transformations, historic spaces were reinvented in innovative ways. A landmarked elevator lobby was repurposed into a reading room, while the elevator shafts were turned into intimate reading carrels. A landmarked corridor of extreme length was re-envisioned as a linear lounge where "the walking meeting," a tradition within this company's culture, could take place.
Read more about the building's adaptive reuse here.