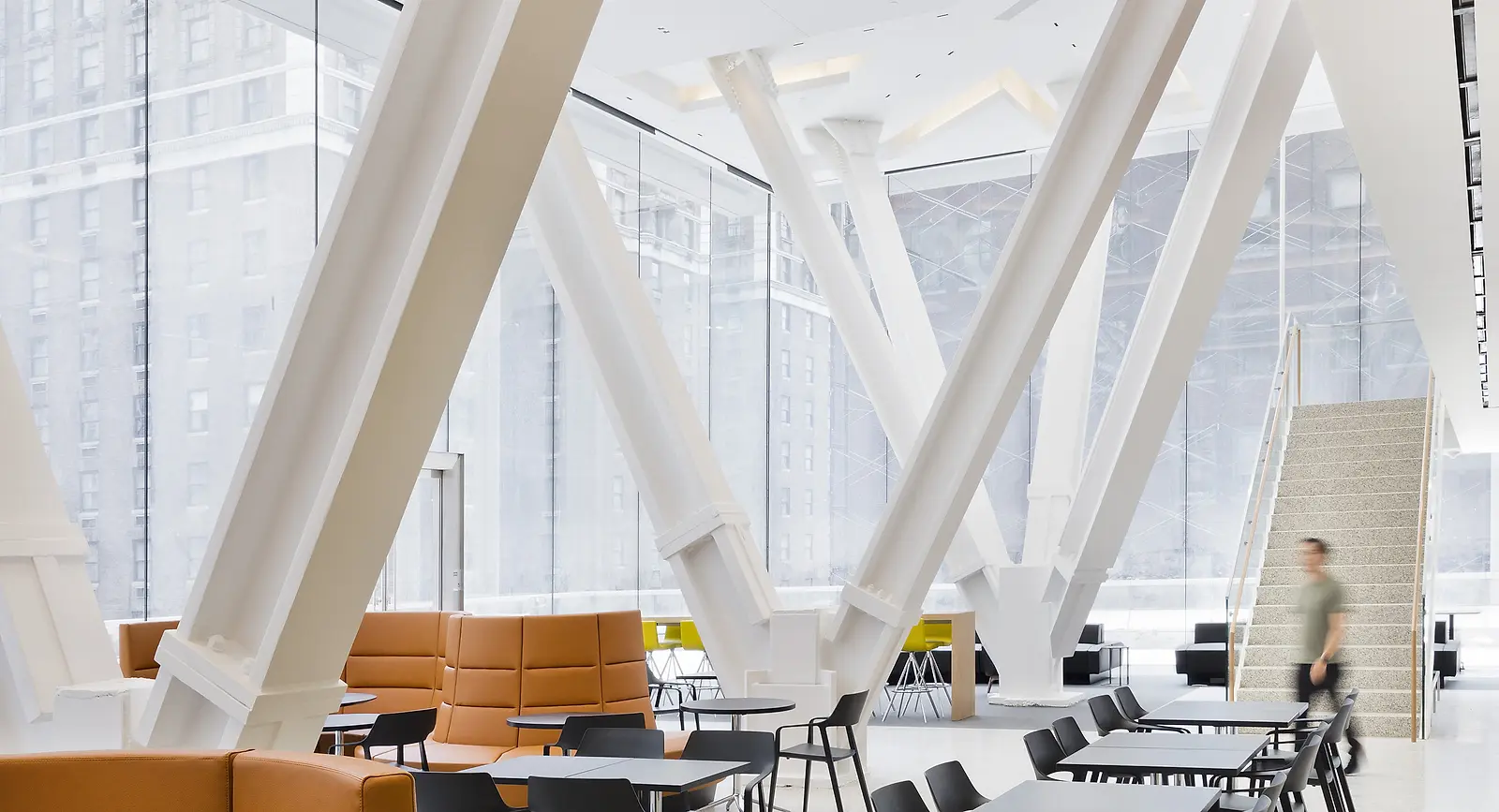 390 Madison is a dramatic transformation and modernization of an outmoded office building in the heart of New York City's midtown corridor.
The surgical re-massing and configuration of this overbuilt property in the heart of Midtown Manhattan enabled the provision of modern work space without sacrificing valuable area. The original 1950s building predated current city zoning so the client would have lost significant GFA had it replaced the existing with a new structure.
A preliminary analysis identified certain locations in the building – including areas compromised by low floor-to-ceiling heights or an unfavorable column grid – that were suitable for moving elsewhere. Based on that massing concept, the final design carves out sections of existing floor slabs and redistributes the excised floor area in the form of eight new stories atop the existing structure, providing the building with valuable new height and views and a more balanced distribution of floor plate sizes throughout the building.
This new configuration offers floors with the ceiling heights and structural spans needed to satisfy the needs of today's tenants. The new volumes of space include several new double-height spaces throughout the existing structure and a triple-height amenity space on the ninth floor. This unique L-shaped space, on the building's southeast corner, boasts a column-free perimeter and a ceiling height of more than 25 feet. An exterior terrace that runs along the building's three street frontages extends the amenity space outside the building.
The new building massing also necessitates adding a lateral system, which did not previously exist, as it was not part of the structural strategy when the building was first conceived. This lateral system – visible in the form of structural bracing on the exteriors – not only improves the building structurally, but also adds to its architectural character.
In concert with the high ceilings, the previous dark and dated façade was stripped away and new energy-efficient curtain walls put in its place, pulling more light into the structure and illuminating the interiors of the building. The building will also be outfitted with new roofs and new cores, including new elevators, mechanical, plumbing, and electrical equipment, and will pursue a LEED-Gold certification. The process also ensured the removal of toxins contained in aged building materials.
At the building's ground level, two-story retail spaces will provide spacious new homes for businesses, while a carved-out, column-free corner at Madison Avenue and 46th Street will extend the sidewalk and enliven the streetscape.
The project exemplifies an inventive solution to New York City's glut of dated building stock restricted by current zoning regulations.