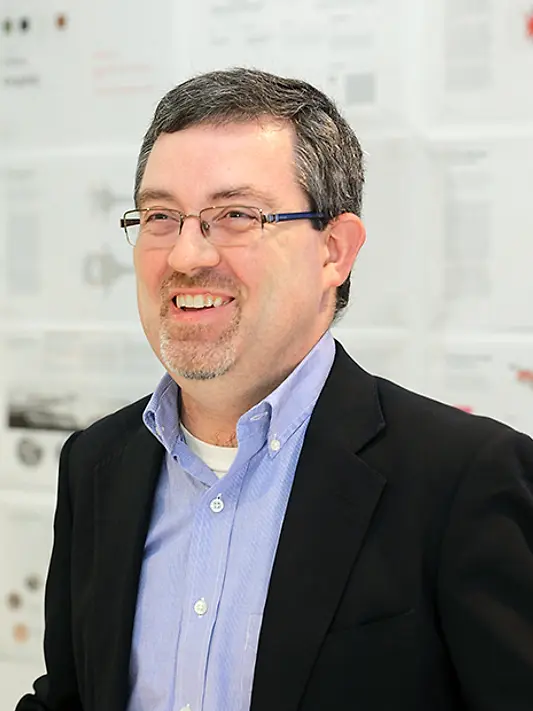 David Cunningham
Since joining KPF in 2000, David Cunningham has worked on a variety of building types in the United States, Asia, and the Middle East, with a focus on large mixed-use and transportation facilities.
David worked on various aspects of Hudson Yards on Manhattan's West Side, the largest private real estate development in U.S. history at 13.4 million square feet. Starting in 2011, he was involved with the design development of both 10 and 30 Hudson Yards, two mixed-use, super-tall towers to rise more than 1,250 feet on the city skyline. His primary focus was on the design and construction of the master plan's Retail Podium, which offers 1.1 million square feet of retail space and a connection between the two KPF-designed towers.
David has been a central figure in KPF's aviation pursuits. His experience began with the 4 million square foot Washington Dulles International Airport in 2003, where he oversaw schematic design and construction administration of the Concourse C station for the airport's new Aerotrain System. Concurrently, he worked on the planning and design development of the airport's Tier 2, as well as the design and construction of its Connector Tunnel.
His domestic transportation work led to several years of managing two large international projects. From KPF's Abu Dhabi and London offices in 2009, he acted as Deputy Project Manager for the Abu Dhabi International Airport, interfacing with the client group and technical disciplines on all aspects of the project, with particular emphasis on ensuring constructability during the peer review process. In 2011, he acted as both the client liaison and Project Manager for the concept design of Aerospace City Qatar, a proposed international airport and training facility 40 kilometers north of Doha. The same year, he assumed the role of Project Manager for several design packages for Incheon Airport in South Korea, executing conceptual and design development for its Airport Administration Building, second Ramp Control Tower, and several checkpoint facilities.
David is a Registered Architect in New York State, holds the NCARB certificate, and is a member of the American Institute of Architects (AIA).