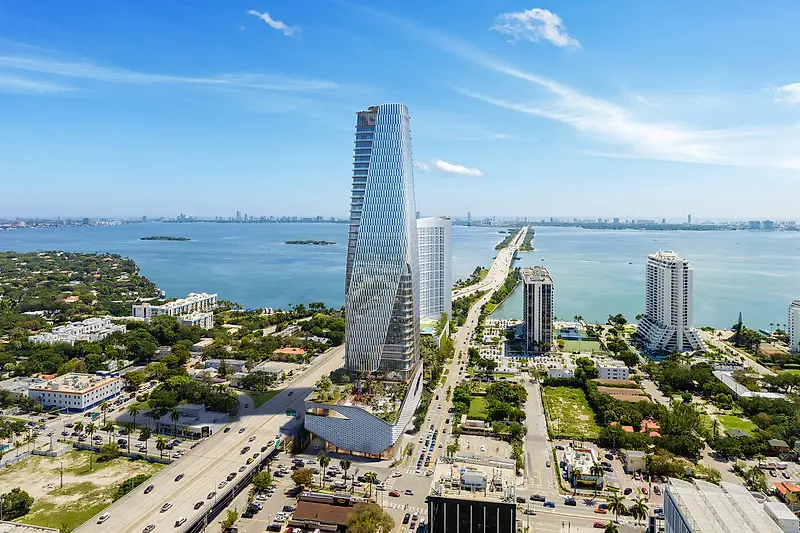 Tower 36, Luxury High-Rise Office Building, Receives Unanimous Approval in Miami
Developed by One Thousand Group, the project brings Class-A office space to the Design District and overlooks Biscayne Bay, contributing to the area's evolution as a mixed-use neighborhood.
KPF is pleased to announce the approval of Tower 36, a new lifestyle office tower adjacent to Miami's Design District. Located at Miami's northern gateway to the high-rise district, the approved 635-foot Tower 36 will be the tallest in the neighborhood, enjoying primacy of place with sweeping views toward Biscayne Bay, Miami Beach, and the Atlantic Ocean beyond. The project sets the bar for the new era of highly amenitized, ultra-luxury Class-A office towers driven by occupant wellness, integrated landscaping, and access to outdoor space. Florida-based ODP Architecture & Design will serve as the architect of record on the project.
A defining architectural feature of the tapered tower is its glass façade, which reveals terraces on all office floors arranged in a configuration that conveys a sense of movement across the building. Detailed with light bronze soffit accents, these outdoor spaces provide tenants with enhanced views and a direct connection to their surroundings.
"Our design for Tower 36 draws inspiration from its site adjacent to Biscayne Bay and the causeway, as well as Miami's culture of design embodied in the nearby Design District," said Robert Whitlock, KPF Design Principal. "The architectural language of the tower utilizes an elegant, tapered form, sculpted to reveal outdoor terrace floors in a geometry that conveys a sense of activity and motion. The textured screen defining the podium is sculpted to give prominence both to the ground floor retail facing 36th Street and the landscaped rooftop gardens, restaurants, and amenities."
"New York-based KPF was the logical choice for design architect of our newest planned tower, creating for Miami a true New York-caliber, Class-A luxury office tower, which currently does not exist in the market," said Kevin Venger, Co-Founder of Miami-based One Thousand Group. "KPF is on the leading edge of high-rise office design in major business centers around the globe. In the past decade, Miami has grown to become one of these global cities and needs office product that keeps up with the latest market trends in order to be competitive in attracting companies to headquarter in Miami."
"The project's location at the intersection of Biscayne Boulevard and 36th Street marks the northern entrance to Miami's high-rise district. The building is positioned as a true gateway to the city and its Edgewater neighborhood immediately adjacent to Miami's Design District. Tower 36 also defines the entrance to the Julia Tuttle Causeway (I-195), which serves as the main point of access from Miami's mainland to the heart of Miami Beach," explained Venger.
To complement the office floors above, the building's podium includes retail space on the ground floor, bicycle and car parking for tenants, and a premium restaurant experience on its landscaped roof. In addition, a multi-story office amenity space features equally striking terraces facing both the bay and Downtown. A departure from the strict, angled corners of nearby buildings, the podium design favors gentle curves throughout. The ground level is cut away at the northwest corner, revealing a motor court
arrival with entrance to the office lobby, which is bathed in natural light from an open-air oculus.
Accentuating the podium's cantilevered form and open corners, the façade's layered pattern of aluminum panels conveys a sense of motion and forms a screen to naturally ventilate the parking garage within. Referencing Miami's ubiquitous palm trees, the wall's metal fins are dual toned with a warm copper interior and a silver exterior. The design creates a dynamic viewing experience for passersby, which changes as one moves around the building. Sculpted, geometric apertures are inserted into the podium wall elevations at specific locations to highlight the works of local and renowned artists.
"We are thrilled to receive approval from UDRB for our Tower 36 project," said Lloyd Sigal, KPF Managing Principal. "This building represents our continuing commitment to the Miami market as a live-work-play destination, and we couldn't be more excited to be working with One Thousand Group and our friends at ODP Architecture to bring this vision to life."
Tower 36 is the latest project in KPF's expanding portfolio of work in Miami and South Florida. Earlier this year, the firm unveiled the design of One Island Drive, a two-tower residential and hospitality destination located in Brickell Key; SQ1 West, an elevated office building in West Palm Beach's Rosemary Square; and Heron, a wellness-oriented residential building in Tampa's Water Street neighborhood. The range of typology, scale, and design exemplified by these projects demonstrates KPF's program- and location-specific approach to its work, driven by a commitment to craft and detail.
Download the full press release here.