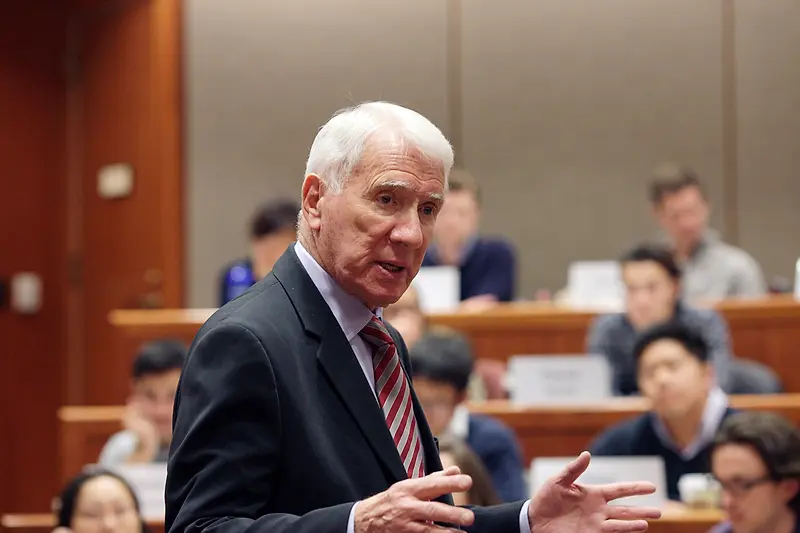 The Architectural World Remembers A. Eugene (Gene) Kohn
The KPF co-founder died of cancer on March 9, sparking an outpouring of remembrances around the world.
Following the news of Gene's death, multiple outlets reported on his contributions to the world of architecture and the impact he had on his firm and the profession. A selection is assembled below:
For Architectural Record, Clifford Pearson, who co-authored Gene's memoir The World by Design, asserted that Gene "will be remembered for crafting and nurturing a firm that designed major projects around the world." Clifford described Gene's unique vision for KPF, explaining that "Instead of showcasing the art—and ego—of an individual designer, KPF would promote a team approach to architecture… Kohn understood that he and his partners William Pedersen and Sheldon Fox would need to attract talented young architects, mentor them, give them the opportunity to work on significant projects, and eventually hand over leadership of the firm to them."
In The Washington Post, Fred A. Bernstein underscored KPF's success under Gene's leadership, highlighting a range of early projects that helped establish the firm's reputation, including "a beloved addition to the Cincinnati skyline [Procter & Gamble World Headquarters], a hilltown-like compound in McLean, Va. [Gannett/USA Today Headquarters], and a zigzag shaped building in Armonk, N.Y [IBM World Headquarters]."
Paul Goldberger, writing for The New York Times, highlighted the firm's global expansion, led by Gene. "As the firm continued to grow, Mr. Kohn turned his ambitions to the rest of the world. He wanted the firm to become global, and he set his sights first on London… Before long Mr. Kohn had gotten the commission to design a new European headquarters for Goldman Sachs, and the London practice was launched… Not long after, Mr. Kohn began to market KPF's work in Europe and Asia, where he positioned the firm as a place that could satisfy the growing predilection for super-tall towers across Asia."
CNN noted the breath of KPF's practice under Gene, "During Kohn's time at KPF, the firm designed everything from university campus buildings to airport terminals in cities including Philadelphia and Abu Dhabi. But it is best known for gravity-defying high-rises — the tallest of which, the Ping An International Finance Centre in Shenzhen, China, soars 1,966 feet above the ground."
Read the early story of KPF here.