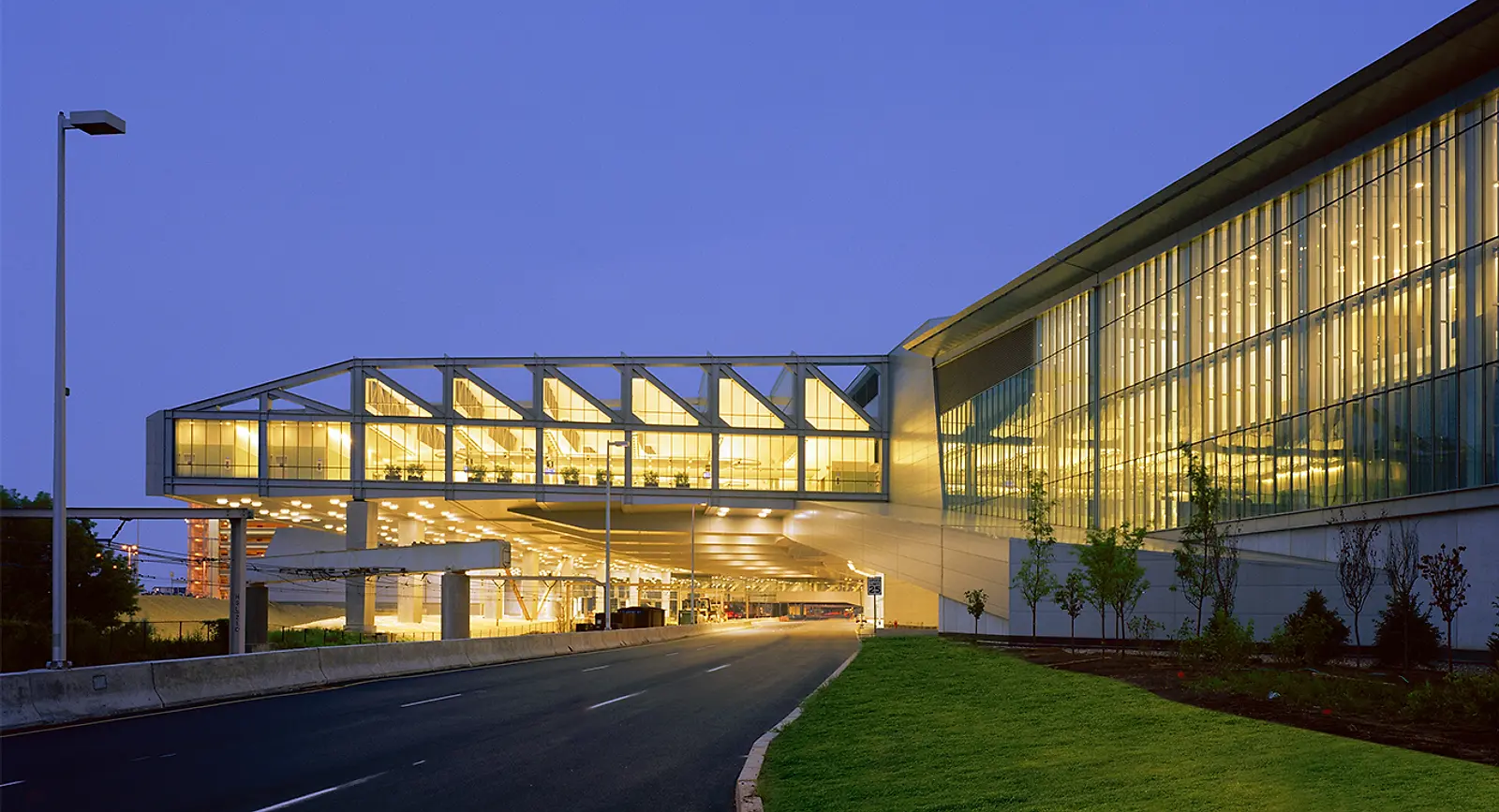 US Airways International Terminal 1
Philadelphia International Airport
The primary design objective of the Philadelphia Airport International Terminal One is to provide passengers with convenient and comfortable experiences through a distinct, light-filled, elegant facility. The functional relationships within shape the overall building form. Terminal One will serve as the international gateway, marking definitive moments of arrival and departure, to Philadelphia and the existing airport terminals.
On approach, the view of the new facility is of the large clad truss structure spanning the road and the adjacent transparent vertical wall with views through to the airfield.  The arrivals roadway brings the enplaning passengers beneath the 190ft. clear span F.I.S. facility, providing a generous open and weather protected drop-off zone.  Passengers enter the main terminal building at curbside through the large revolving doors that punctuate the 38ft. tall ticket hall curtainwall; they proceed into the double height lobby and ahead to the ticket counters along the south/ATO wall.  The lobby opens (above the ticket counter alcove) to the second level above, providing diffused daylight into the ticket hall from the south curtainwall beyond.  The symmetrical and clear organisation of the ticket hall allows unobstructed visibility and access to the escalators and elevators located at the east and west ends of the hall.
The concourse is made up of three distinct roof forms which organize the spaces within.  The lower shed roof slopes south towards the airfield.  The higher roof is formed by a subtle curve upward towards the center and bowing north away from the lower shed roof.  The lower shed form contains the holdrooms (four gates) along the south wall, situated with direct view of the airfield.  The secure corridor runs parallel between the holdrooms and the glass partition overlooking the ticket hall below.  The holdroom ceilings curve gently upward, opening the intimate lounges gradually to the active east-west circulation spine transversed by bridges above at the light-filled central vertical circulation node.  This circulation node is the contained beneath the wing-like roof which projects above the lower sloped shed.  Both the interior and exterior of the new F.I.S. facility are shaped by the articulated saw-toothed roof, reinforcing the primary design objectives.  North-facing vertical clerestories span between the expressed metal clad trusses, allowing the distribution of uniform daylight within, while providing a dramatic evening glow.