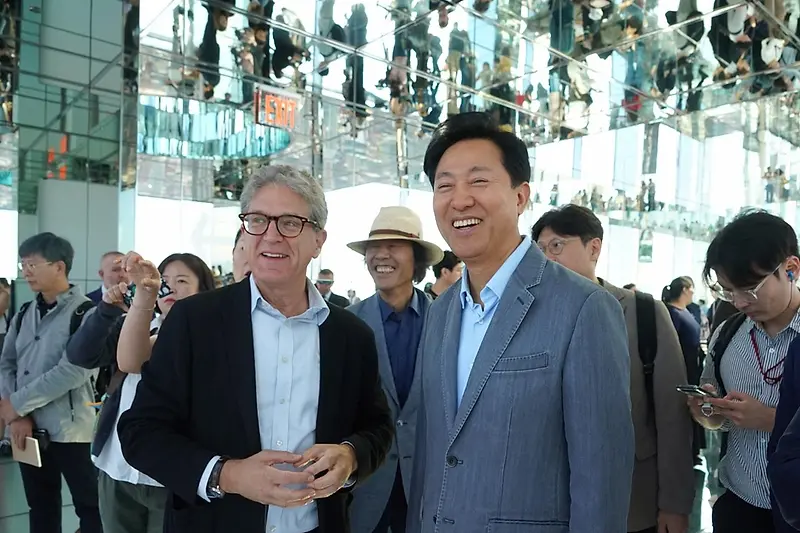 Seoul Mayor Oh Se-hoon Visits One Vanderbilt
Yesterday, KPF President and Design Principal James von Klemperer toured the Mayor at SUMMIT One Vanderbilt, where they discussed the importance of transit-oriented developments, public-private partnerships, and architectural harmony with historical structures.
In Mayor Oh's visit to New York, one of his first stops was One Vanderbilt, a project that helped inspire the Seoul Biennale of Architecture and Urbanism's theme of imagining the city's remodeling over the next 100 years. Jamie joined him on his visit, after presenting at the Biennale last month, to provide insight into One Vanderbilt's design methodology and material selections. Mayor Oh admired the harmony between the supertall and the neighboring Grand Central Terminal. While the two buildings were completed more than 100 years apart, their forms and material palettes form an architectural dialogue. KPF's design for One Vanderbilt features an angled cut and raised exterior wall at the lower levels to reveal the terminal's cornice, and heavily features terra cotta, a choice inspired by the Guastavino tile work throughout Grand Central.
Mayor Oh reflected on the success of One Vanderbilt and the regulations that made the tower's development and completion possible, a process that would be much harder, if not impossible, in Seoul due to the strict legal limits around developing next to historic buildings. "If it's in our country, since Grand Central itself is a historically significant property, we cannot build a new commercial tower like this next to it," he said, "I heard an explanation that 'a new building is accepted as long as the design shows respect and harmony to Grand Central Terminal.' This mindset really touched me deeply."
During his trip to New York, Mayor Oh also visited other cultural destinations including Little Island and The Shed at Hudson Yards. Read the full article from Yonhap News Agency here.