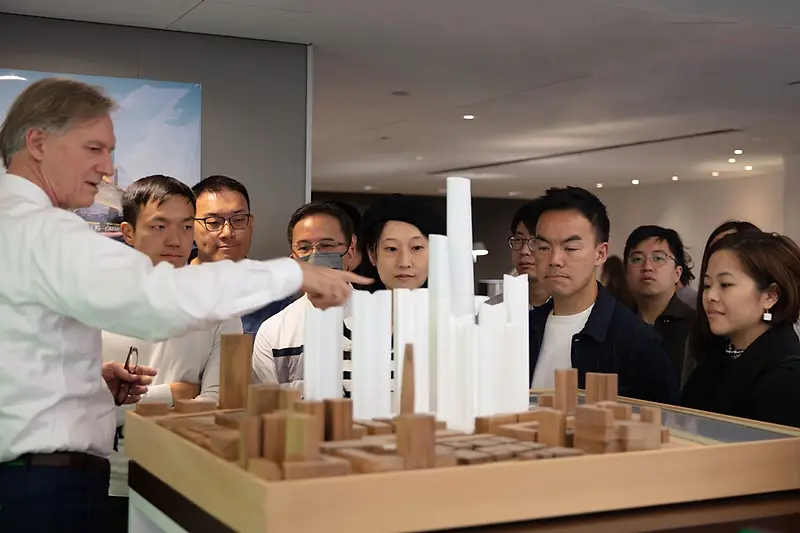 KPF New York Hosts Hong Kong Institute of Architects
On October 13th, KPF Director Florence Chan led a group from HKIA in a visit to KPF's headquarters in New York, where they learned about the firm's work as an international practice and received a tour of the office.
Florence, who is based in the Hong Kong office and current President of the AIA Hong Kong Chapter, led the cohort of about 30 young professionals from HKIA, Hong Kong institute of Planners, and Hong Kong Institute of Landscape Architects during their visit. The group learned about the firm with a presentation by Principal Lauren Schmidt, giving an overview of KPF's work as a global practice, highlighting projects in the U.S. and abroad, and discussed the firm's approach to projects, its innovative practices, and its internal culture. Following the presentation, Principal Robert Whitlock let a tour of the office.
HKIA visited KPF's office in tandem with the group's first ever traveling exhibition in New York, "Beyond Territories: Made, Make, Making." The exhibit, now on view at Ideal Glass Studios from October 10th through the 25th, explores Hong Kong's urban development since the British handover to the People's Republic of China in 1997.  HKIA co-organized the exhibit alongside Hong Kong Economic and Trade Office, New York ('NYETO') of the Government of the Hong Kong Special Administrative Region ('HKSAR').