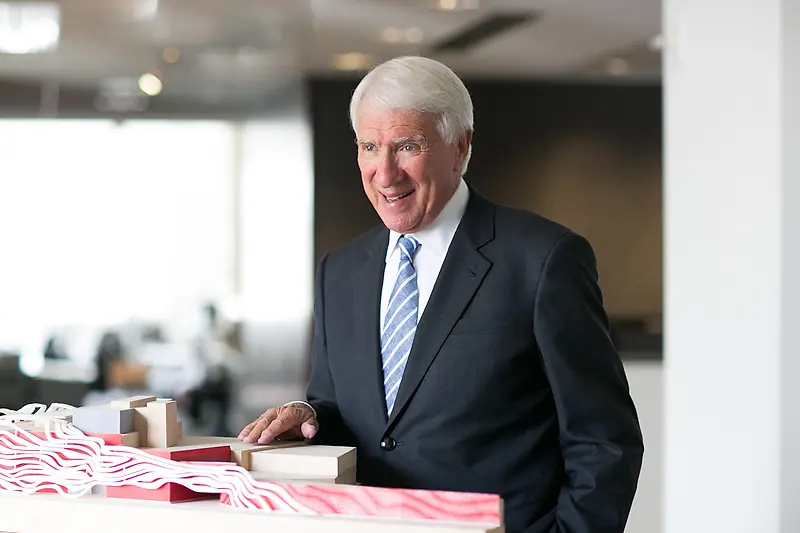 KPF Founder Gene Kohn Named ULI Life Trustee
KPF contributes $1 Million gift to the Urban Land Institute (ULI) Foundation.
KPF is proud to announce that longtime ULI Trustee A. Eugene (Gene) Kohn has been named a ULI Life Trustee by the ULI Global Nominations Committee, the first architect to receive the honor.
"Throughout my professional career, ULI's values have served as a guiding principle," Kohn said. "ULI has tremendous reach throughout the architectural community and has catalyzed positive change across the globe. After four decades as a member of ULI, I'm deeply grateful to be named a Life Trustee."
Life Trustees are ULI members whose service to the organization has been meaningful, distinctive, and extraordinary. The Global Nominations Committee considers individuals' standing and reputation in the real estate and land use industry, as well as their contributions to ULI and the ULI Foundation.
Kohn is co-founder of Kohn Pedersen Fox Associates (KPF), which he founded in 1976 with William Pedersen and Sheldon Fox. As KPF's original President and Chairman, Kohn spearheaded the firm's worldwide operations and molded it into a leader in the architecture industry. KPF is the youngest company to have received the American Institute of Architects' Architecture Firm Award, and is responsible for iconic, city-shaping projects around the world including 333 Wacker Drive in Chicago, The World Bank Headquarters in Washington DC, Roppongi Hills in Tokyo, Petersen Automotive Museum in Los Angeles, Covent Garden in London, and Hudson Yards in New York. Over two dozen of the firm's projects have been honored in various ULI Award of Excellence programs. Kohn's prolific 60-year career has earned him numerous accolades, including The National Building Museum Chairman's Award, The Soane Foundation Honors, and the Alumni Award of Merit by the University of Pennsylvania — the university's highest honor for alumni.
"Gene will be so proud to receive this honor," said James von Klemperer, KPF President. "It recognizes his special ability to bring architects together with real estate professionals to embrace a common cause. His lifelong commitment to improving our cities is an inspiration to us all. KPF is thrilled to have the opportunity to give back – and we hope that by enabling ULI to expand on its crucial climate goals, we can create a more sustainable future for cities across the globe."
KPF is contributing $1 million to endow the annual A. Eugene Kohn/KPF Fellowship to fund research on low carbon design and other activities in the ULI Randall Lewis Center for Sustainability in Real Estate. Efforts will be focused on topics such as achieving carbon neutrality through design, using low-carbon materials, promoting transit-oriented development, increasing urban green space, and facilitating progressive urban and community policy, with strategies, learnings, and best practices shared with the ULI community and broader real estate industry.
A ULI member since 1982, Kohn's deep engagement with ULI programming and initiatives spans the globe. He has served as a jury member and chair for various ULI competitions, including the Hines Student Competition, Americas Awards for Excellence, and ULI Prize for Visionaries in Urban Development. Kohn is also a ULI Foundation Governor and has generously given to the ULI Foundation for over three decades.
"Gene's enormous accomplishments and unique capacity for leadership put him in a league of his own," said Owen Thomas, CEO of BXP and past Global Chair of ULI. "With work in sectors from commercial and residential to education and research in hospitality and transportation, his contributions across the built environment consistently achieve the ambitious goals undergirding ULI's mission. We're proud to award him this honor and look forward to the continued inspiration he will provide for our members."
Read more here.