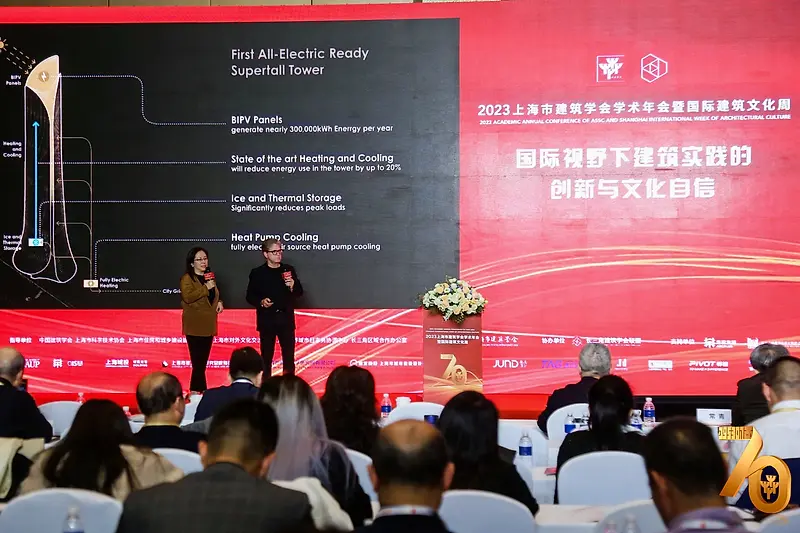 James von Klemperer and Rebecca Cheng Present at Shanghai Architectural Association Annual Conference
The KPF President and Principal shared three sustainably driven projects in various stages of construction at the annual conference and the organization's 70th anniversary.
The theme of this year's conference was "Blooming Spring, Fruitful Autumn, Innovating the Future," to align with the Shanghai government's strategies for a better future for the architecture industry. The conference brought together government representatives, international associations, real estate companies, architects, and urban planners, resulting in a crowd of over 300 attendees.
In "Private Buildings with Public Benefits: Three Current KPF Projects," Jamie provided insight into the need for city-center buildings to contribute to the public good by limiting their carbon footprint. Jamie's presentation looked at three projects that meet these demands: Singtel Headquarters in Singapore, Panorama St. Paul's in London, and North Bund Centre in Shanghai. Singtel Headquarters is an end-to-end carbon neutral development with a vast landscaped roof that overlooks Marina Bay. At 81 Newgate Street, Panorama St. Paul's is a transformation that reuses the original building's Portland Stone and upon completion, will include a public roof terrace. Rebecca joined Jamie to discuss the final project, North Bund Centre, showcasing Shanghai's first all-electric building, and the world's tallest at 480 meters tall. North Bund Centre features offices on its lower floors, a hotel in the upper levels, and an observation space at the crown where the public can look across the city and experience a variety of performances.
The conference, hosted by the Shanghai Architectural Association, was held on November 11 at the Shanghai Hongqiao Greenland Brilliance Hotel. Learn more here.