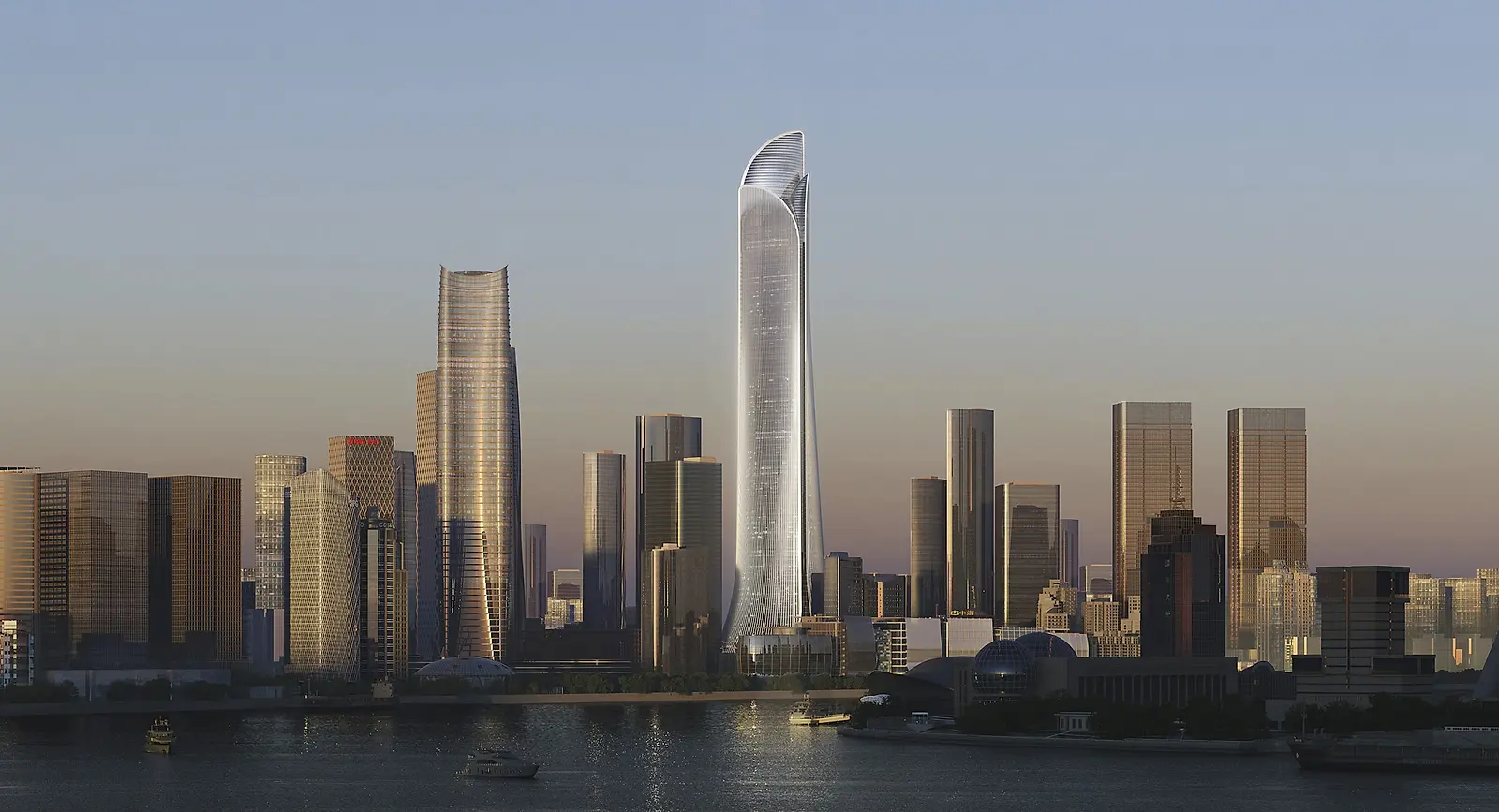 At 480 meters tall, North Bund Centre will be the world's tallest, and Shanghai's first, all-electric building, creating a new framework for sustainable towers by prioritizing carbon footprint reduction and serving as a model for the city's responsible growth.
Located near the confluence of two bodies of water, the Huangpu River and Suzhou Creek, and at the nexus of three neighborhoods, LuJiaShui, PuXi, and North Bund, the project reflects themes of intersection and balance throughout its design. The main form of the tower begins as a circle at ground level and transforms into a triangle as the floor plates rise, optimizing sweeping views from the office floors and thoughtfully directing views from hotel rooms. The crown of the tower culminates in three dramatic, stepped elements that reinforce the embodiment of nature, culture, and technology. Soaring vertical recesses emphasize the tower's connection from ground to sky, ensuring the supertall remains visually approachable and reminding all that the tower's highest point is truly publicly accessible.
To support China's vision of becoming fully carbon neutral by 2060, the tower is fully electrified, burning no fossil fuels on site. Its modulated triangular shape reduces wind loads, allowing for a lighter structure that uses less material. By catching the sun at an oblique angle, the façade minimizes solar heat gain, while integrated photovoltaic solar panels harvest electricity. The project further addresses the consequences of climate change by prioritizing resiliency and the public realm; the tower's flared base collects rainwater and directs it to holding cisterns, aiding with urban flood mitigation and providing irrigation for a park at ground level. Working together, advanced mechanical, façade, and structural solutions will reduce operational carbon by 40-50% and embodied carbon by 20-30% compared to a typical supertall tower.