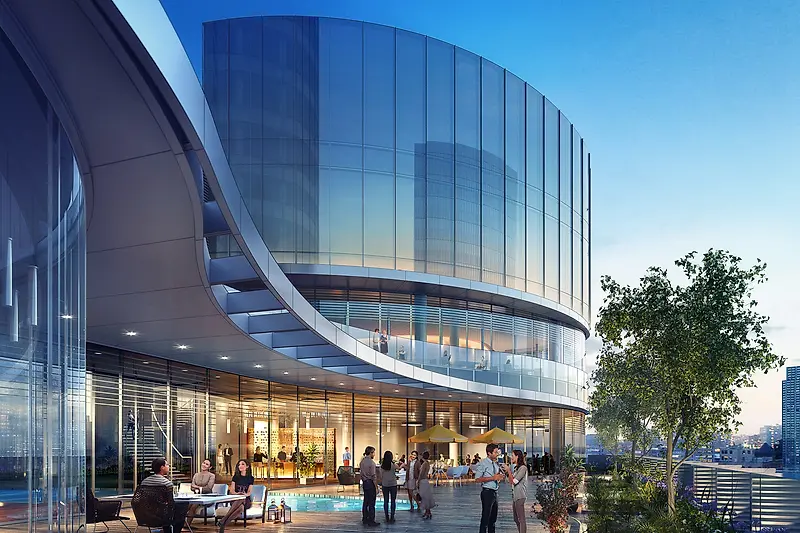 Jakarta MPP Completes in Indonesia's Capital
Yesterday, KPF celebrated the completion of the 266-meter office tower developed by Mori Building Co., Ltd, marking the Japanese urban landscape company's first development project in Southeast Asia.
The form of Jakarta MPP cements the project's status as a new landmark for the city. The curved design and lighting features enhance the skyline, rising 58 floors above the growing CBD. Visitors and tenants are greeted with a uniquely curved façade at the southeast corner, welcoming them as they enter the building. Jakarta MPP provides the city with some of the largest office floor plates on the market, with over 88,700 square meters available to rent. The space is fitted with three-meter ceilings and column-free plans measuring 18 and a half meters from core to window.
In addition to office space, the project includes retail and dining options and a landscaped public terrace on the 13th floor. The project is GreenMark certified and expected to become Jakarta's first tower to receive the WELL Core Gold certification.
Also in Jakarta, KPF's portfolio includes Sequis Tower, an office building whose form takes inspiration from the local Banyan tree, and Autograph and Luminary Towers, of which the former is Jakarta's first supertall at 383 meters tall.
Past collaborations between KPF and Mori Building include Shanghai World Financial Center and Tokyo's Roppongi Hills. Read Mori Building's press release here.