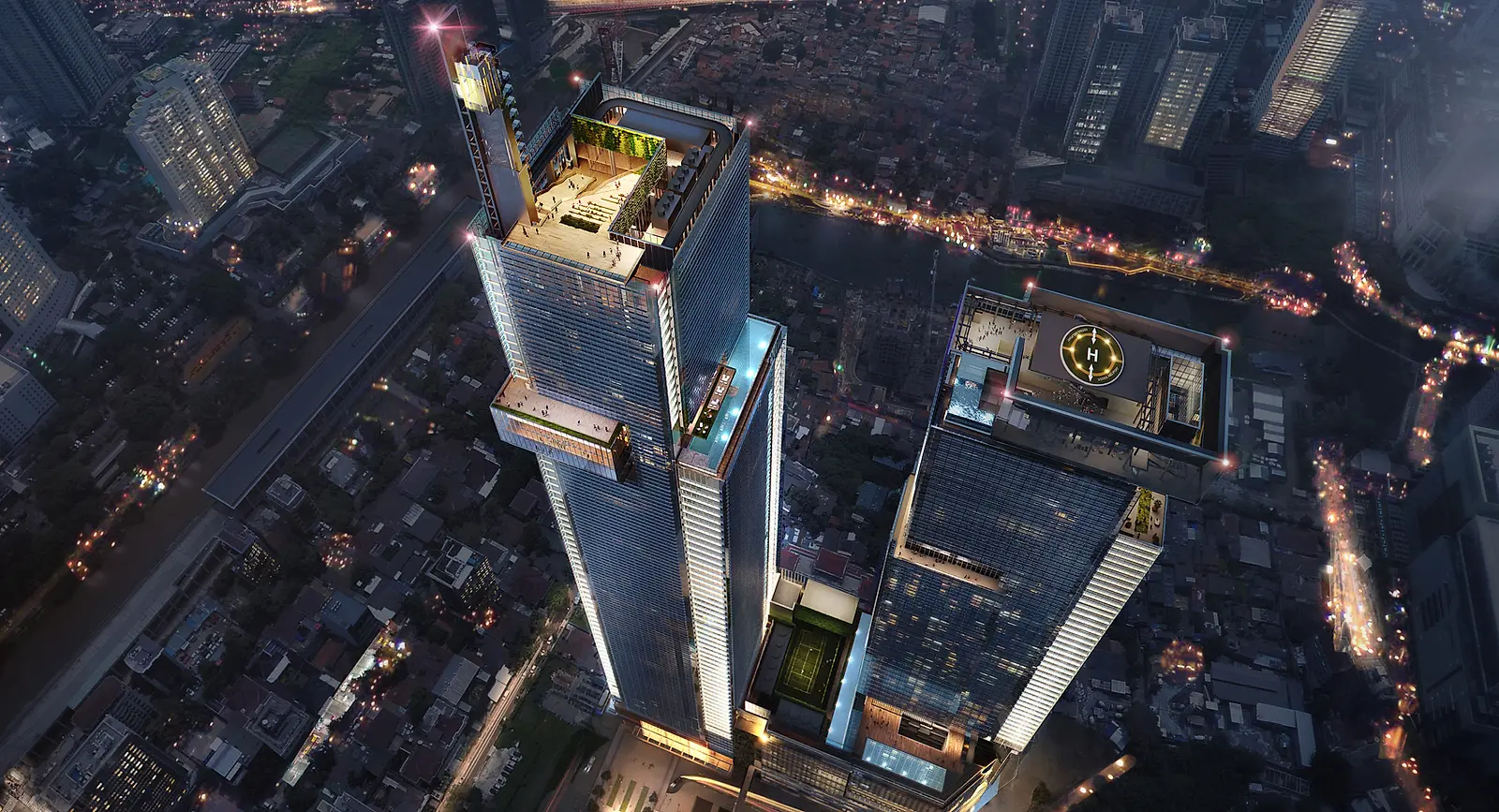 Autograph and Luminary Towers
Waldorf Astoria Jakarta at Thamrin Nine
Thamrin Nine's paired towers represent a gateway into the historic Jakarta neighborhood, integrating public and private spaces to create vertical cities within themselves.
Standing above a layer of high-rise buildings, Autograph and Luminary Towers are significant additions to the city skyline, with Autograph Tower ranking as Jakarta's first supertall at 383 meters tall and Luminary Tower rising to 304 meters. The buildings step up in height from the low-level retail podium that connects the two towers, enhancing the urban environment of the city with four illuminated observation decks that cantilever off the glass structures.
The mixed-use development integrates retail, office, and hospitality, and offers direct access to Jakarta's MRT, fostering the community comprised within Thamrin Nine. The development includes a range of entertainment spaces such as cinemas, bowling allies, and banquet halls. The Waldorf Astoria Hotel occupies the upper floors of Autograph Tower, while both tower rooftops invite the public for unparalleled views of the city.
The project prioritizes views to the North, South, and East, minimizing impact from Jakarta's western geography to manage internal temperature and improve energy efficiency. Autograph Tower integrates nature by introducing a green-wall, greenery on the rooftops, and along the public promenade. A skylight in the central atrium of the Waldorf Astoria introduces natural light. The towers' curtain walls feature a bold linear façade design that offers shade to the interiors while referencing the local architectural façade heritage. The entire project is targeting Greenmark certification, while the office portion of Autograph Tower is pursuing Greenmark Platinum certification.