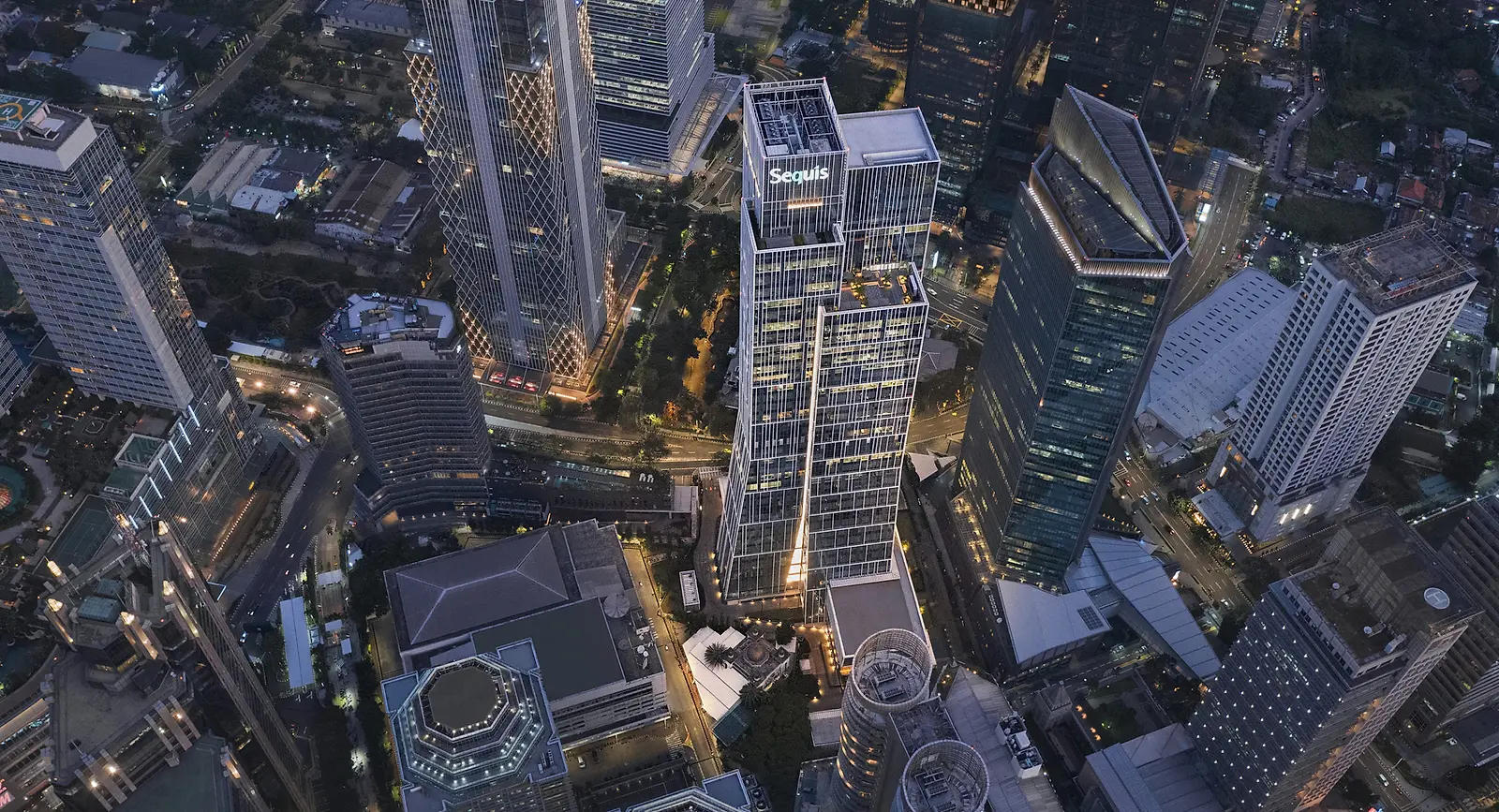 With its thoughtful urban design, skyline-defining form, and focus on sustainability, the Sequis Tower is a new paradigm for Indonesia's burgeoning capital.
The form and massing of the tower, driven by contextual analysis and a focus on efficiency, stands apart from Jakarta's conventional all-glass rectilinear architecture. Taking inspiration from the local Banyan tree, the tower rises organically from the ground as a series of finely scaled elements. In contrast to the standard model in Jakarta, where traffic and parking govern pedestrian connectivity, the tower design foregrounds the importance of the ground level pedestrian experience by pulling on-site traffic circulation below-grade and elevating the parking. Thus, the ground plane of the site is reserved for green space and pedestrian movement.
The tower consists of four bundled and deflected "super-tubes," nested and offset from one another. This massing generates unique office types and creates greater structural stability in an active seismic zone. At the top of the tower, the tubes vary in height to form multiple grand sky-gardens overlooking the city, while at the podium they extend outward to support larger office floors and increase pedestrian porosity through the site.
One of the first LEED Platinum buildings in Indonesia, Sequis Tower integrates a variety of sustainable design strategies to perform 36% better than the LEED baseline. A gradated array of fins and panels on the tower's curtain wall addresses solar radiation with optimized gradations, while high-efficiency building systems minimize consumption. Locally-sourced, recycled materials reduce the amount of embedded energy in the tower.