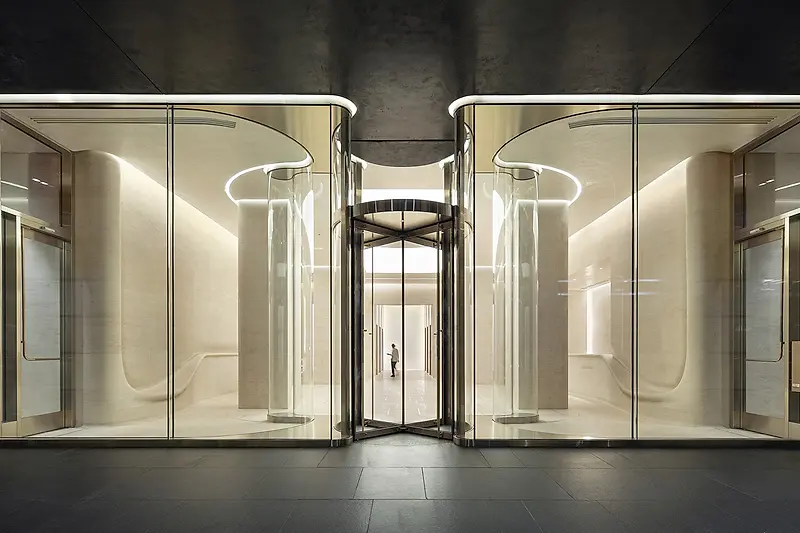 Hugh Trumbull Discusses the "Seamless Integration" of 712 Fifth Avenue's Lobby Renovation with Architizer
The KPF Principal recounted the process of returning to 712 Fifth Avenue to renovate the office lobby 30 years after the firm's initial work on the building, engaging with the postmodern structure while elevating the space to suit today's tenants.
"How do we engage with the discourse of history today? And how do we discuss postmodernism through built work?" Hugh considered when reflecting on the challenges of reimagining the entry and lobby of the 1990 building. "Our response was to generate a fundamental dialogue between glass, stone, and human occupation; to utilize advanced modern technology to fabricate the materials in a way that is both futuristic yet grounded in traditional historic construction methodologies." The 712 Fifth Avenue Lobby maintains the original size, arrangement, and program, and is updated with a sculpted glass entryway and French limestone walls that extend into sweeping benches.
KPF has led multiple interventions at the address. In 1990, the firm was tasked with adding a tower above two landmarked buildings, resulting in a 52-story office building clad in Indiana Limestone and white Vermouth marble. Additionally, in 2023, the firm renovated a retail space consisting of an atrium fitted with René Lalique architectural glass panels.
In the interview, Hugh covers the inspiration for the initial concept, standout components of the project that helped it win an Architizer A+ Award, and how the materials were selected. The lobby is one of 14 KPF projects featured in Design in Detail, an in-depth exploration of achievements in architectural craft. The book looks at the processes that produced the curved glass and carved stone surfaces and how these features brighten and elevate the space.
Read the full interview with Architizer here.