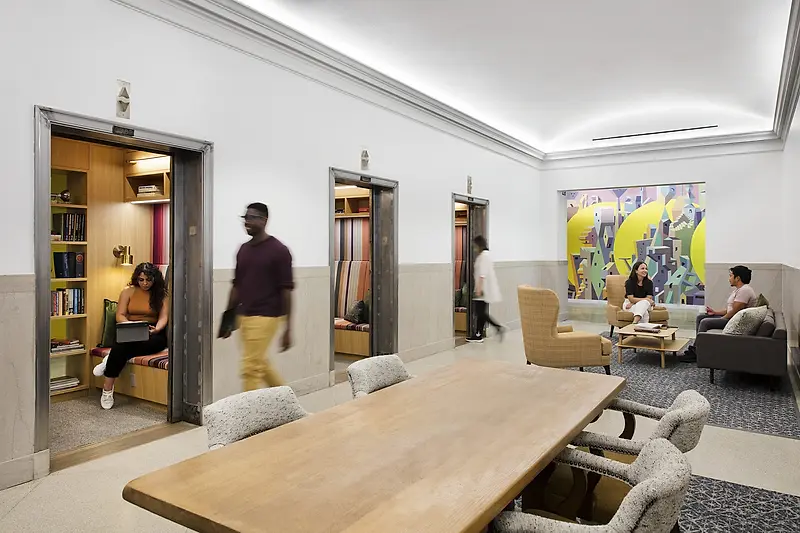 Hana Kassem Discusses Meta Farley's Human-Centered Architecture on DESIGN:ED Podcast
Following a feature in Architectural Record last month, the KPF Principal continues the conversation about how the team transformed 700,000 square feet into an office for the tech company.
Beginning with a discussion of the maturation of the tech office typology, Hana explained that the approach to Meta Farley's design focused on the needs of the use, including spaces for restoration and socializing, while keeping a sense of playfulness as "the nature of those spaces became more sophisticated." The office is two city blocks wide and spans five floors, wrapping the Moynihan Train Hall in the Landmarked James A. Farley building, previously a major US Postal Service branch for the New York region. Mindful of wayfinding and daylighting due to the scale and depth of the floorplates, the transformation produces "positive friction," as Hana coins, encouraging social collisions that spark conversations between employees.
The design honors the history of the building through material selection. By converting the former elevator cabs into intimate reading carrells, the preservation requirements of the elevator lobby were fulfilled while Meta employees gained additional types of spaces beyond the typical desk layout. "That was a perfect blend of programmatic needs with what the building gave us," said Hana.
Hosted by Architectural Record, the Design:ED Podcast provides insight into the architecture field told from the perspective of industry-leading individuals. Weekly episodes feature guests from all over the world, who share personal highs and lows on their journeys to success. Previous guests on the DESIGN:ED podcast include KPF President and Design Principal James von Klemperer, Environmental Design Director Carlos Cerezo Davila, and firm Co-Founder Gene Kohn.
Listen to the full episode here.