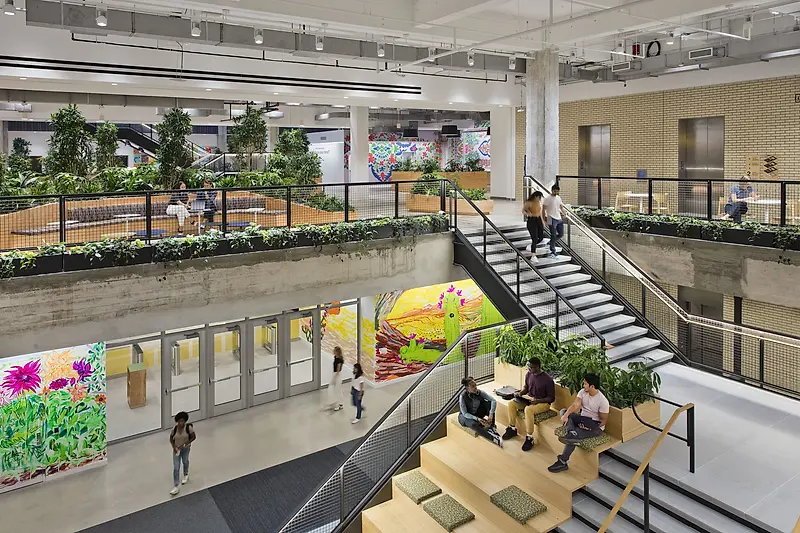 Architectural Record Explores KPF's "Office Reboot" for Meta
The August issue of the magazine highlights KPF's transformation of the Farley Building interiors for the technology company, with insight from Principal Hana Kassem about how the team found opportunities within the original structure.
A protected Landmark in New York City, the 1912 James A. Farley building, designed by McKim, Mead & White, first served as a major US Postal Service branch for the entire New York Region. When discussing the parallels of the building's original purpose as a post office and Meta's mission to share information, Hana said, "Farley was already a place of connection, communication, and technology."
Spanning 700,000 square feet and five floors, the Meta Farley project wraps around the Moynihan Train Hall and occupies the western portion of the building. In order to aid in wayfinding, "intuitive navigation through the cross-section—beyond mostly cubicle-free acres of desks, food halls, and library-like refuges—is supported by such semiconsciously apprehended details as level-to-level differentiations in background brickwork patterning."
The interior design leverages historic details of the original building and transforms them in new ways; a fish-scale pattern from heating grates is repurposed as a floor pattern elsewhere in the building, historic elevator cabs are transformed into reading carrels, and original brick patterns were recreated to differentiate between floors. Hana explained, "there was a lot of craftwork and a lot of attention to issues like patching walls. Do you erase time? Do you record time? Do you make that recording an extension of time into the present?" The article highlights KPF's "radically optimistic" approach to the project, "in which the new is legibly woven into the old and evocative contemporary elements… [that] acknowledge and celebrate their own artifice, yet also support both spatial and temporal orientation."
Read the full article from Architectural Record here. Learn more about the project and the firm's approach to adaptive reuse, as featured in the 2023 Spring edition of KPF Review, here.