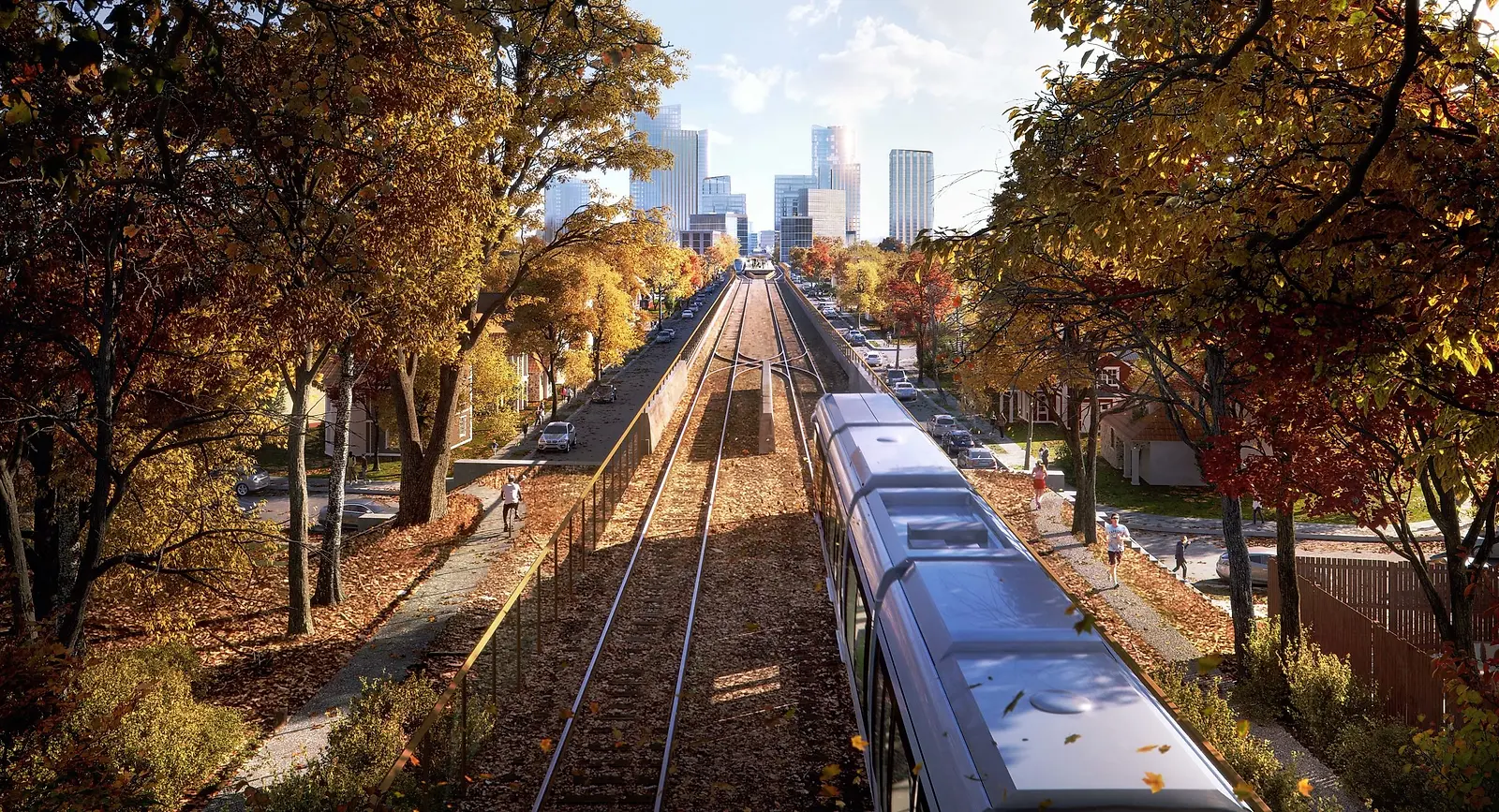 KPF's vision for the "QNS" demonstrates how re-purposing an existing rail line can revitalize neighborhoods, provide affordable housing, create jobs, and add transit service to over nine square miles of New York City.
Working with the Queens Chamber of Commerce and former councilwoman Elizabeth Crowley, KPF employed its urban design expertise to outline a transportation plan and vision for the re-use of the 8.5-mile "Lower Montauk Branch", creating a new rail line that would stimulate economic development while providing a profoundly beautiful infrastructural and urban asset to the city. KPF's vision complements a feasibility study completed by AECOM for the New York City Department of Transportation.
The implementation of the QNS is uniquely attainable in the near future. The Metropolitan Transit Authority (MTA) owns the full right-of-way of the existing rail line, allowing improvement without eminent domain. Previously used for freight, the existing rail line could support dual freight-passenger transportation from Jamaica Station to Long Island City directly through what is currently a public transportation desert. Hence, the reactivated line would provide service to several neighborhoods currently out of reasonable travel distance from the City's central business districts and reduce times for many Queens residents, including the 40% of those who commute within the borough.
The study explores how the new line can fulfill the promise set out for it by Queens Borough President Melinda Katz. Utilizing the skillset of KPF Urban Interface, the firm's study shows that the QNS lies within a half-mile of sites with over 129 million square feet of currently unused development rights, allowing growth without zoning changes or increased density. Where currently zoned for residential, these rights could result in 72,000 new apartments in underserved neighborhoods. Greater transit access would catalyze economic opportunity for the area's predominantly middle and working class population.