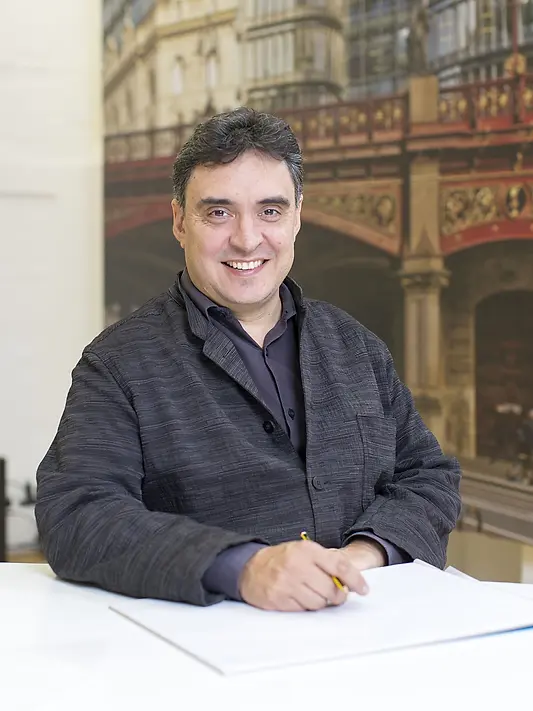 Paul Simovic
Paul brings distinction as both designer and manager, with a specialization in managing the design and construction of complex projects, and having overseen a number of successful planning applications in sensitive locations since joining KPF in 1998. He has been practicing architecture in the UK for more than 25 years and has experience in a diverse range of sectors including commercial, retail, transportation, educational, residential and civic facilities.
Paul's in-depth understanding of London's planning system has proved invaluable on a number of high-profile projects in the UK capital. He is currently serving as Managing Director and Senior Designer on the headquarters of Which?, upgrading a Grade II* listed Georgian terrace and 1980s office building to a modern, open-plan workplace with an enhanced entrance experience. Paul was also recently involved in managing the design and delivery of Southbank Tower, transforming a 1970s tower and T-shaped podium into a mixed-use development that incorporates residential, retail, hospitality, office accommodation and an enhanced public realm. He also served as Managing Director for Sixty London, a speculative office building incorporating a reconstructed Victorian gatehouse that was fully let to a single occupier shortly after completion, and was Designer on the Covent Garden Flower Cellars, now home to the London Film Museum.
Paul served as Project Director for 110 Bishopsgate (Heron Tower), the tallest building in the City of London, which features innovative internal planning and an offset core. Also in London, Paul was part of the design team for MidCity Place, a 35,000-square-metre speculative commercial office building located on High Holborn, for which Paul was responsible for design of the external building envelope and provided on-site representation during construction.
Paul's international experience includes managing the design of a financial headquarters for Ziraat Bank in Istanbul. KPF's first project in Turkey, the new headquarters building references Istanbul's prolific cultural heritage to create a prominent part of the city's new International Finance Centre.
Paul is an active member of the Royal Institute of British Architects (RIBA) and an Architects Registration Board (ARB) chartered architect in the UK. An alumnus of the Bartlett School of Architecture at the University of London, Paul also acts as visiting critic on the University of Nottingham's Sustainable Tall Buildings course.