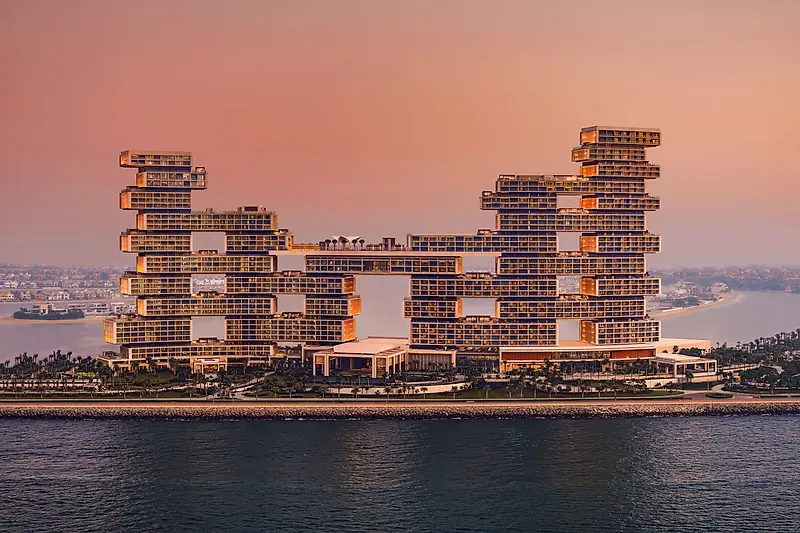 Sleeper Magazine Showcases Atlantis The Royal's "Breathtaking" Design
The KPF-designed resort was featured on the cover of the magazine, with Principal Elie Gamburg providing insight into the inspiration and process behind the project.
For its cover story, Sleeper Magazine looks back to the initial design competition for Atlantis The Royal, which asked design teams to produce "the most memorable building in the city." On KPF's initial thought process and approach, Elie shared, "…Everything possible has been done in Dubai. There is not a form we can conceive that doesn't exist… Rather than trying to create an iconic form, we wanted to develop an iconic set of experiences." To achieve this goal, the team decided to prioritize indoor-outdoor living and "pulled the building apart" into a series of stepped blocks to create sky courts, terraces, gardens, and pools throughout the resort's many floors. The article notes the size of the resort—spanning 500 meters, rising 43 stories, and housing over 795 guestrooms, 231 private residences, and 17 F&B options—yet "the building's block form and the intentional spaces within take away the feeling of heaviness."
The design of the building references its neighbor Atlantis, The Palm, expressing the fluid form of water in an updated and unexpected way. "Instead of descending underwater, which is what you'd expect," Elie said, "we inverted it and brought the water up, so now guests are in sun-filled sky courts yet still have the water experience…the feeling of being in the air yet still underwater is one-of-a-kind." Another unique aspect of the project is the central archway, defined by the 90-meter-long skybridge.
The article closes with a reflection from Elie regarding the success of the project, "If we as architects and designers have created something that makes people want to revisit and experience the way a certain garden works or how a view through something makes them feel, then we have managed to achieve something truly special."
Read the full article from Sleeper Magazine here, starting on page 76.
Atlantis The Royal was featured in Sleeper following its opening in January. Previously, Park Hyatt Suzhou was profiled by the magazine.