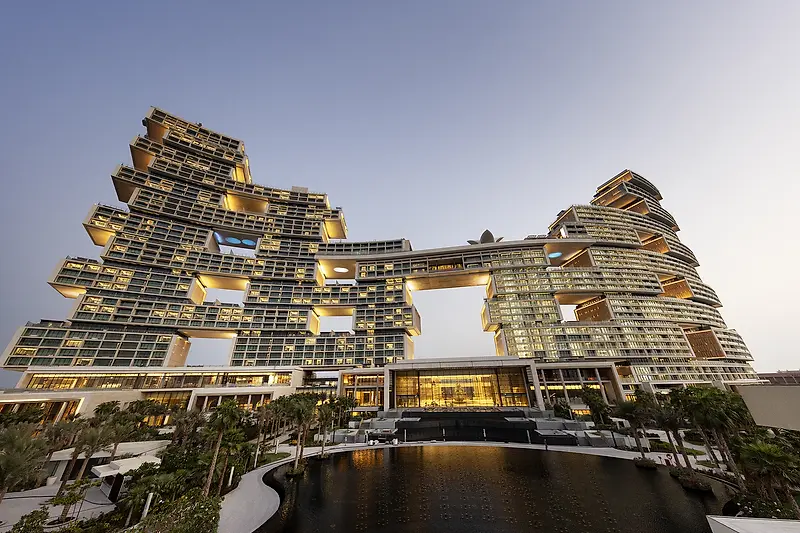 Sleeper Magazine Goes Inside the Design of Atlantis The Royal
With the project now open for future bookings and slated for a Grand Reveal later this month, Sleeper takes an in-depth look into the KPF-designed resort in Dubai that reimagines the possibilities of modern resort architecture.
"We were asked to dream big on this project to create something unique and iconic for Dubai," shares KPF Principal James von Klemperer on the inspiration behind the project's iconic form, "when I look at it now, I'm amazed by the audacity of the whole undertaking. I'm bowled over by what's been built, with its vertical piling up of outdoor experiences in the pools, outside spaces and remarkable design features at every turn." The project's design is defined by its stepped, curving form that allows for private balconies and pools in the sky, offering views toward the Arabian Gulf and the Dubai skyline. Spanning over 400 million square feet, the building is 500 meters long, and rises 178 meters high.
Regarding the project's impact on the area, the article states, "the design for Atlantis The Royal reflects the classic form of Atlantis' nearby property Atlantis The Palm, while bringing it forward with a futuristic form that showcases the progressive, modern architecture of the Dubai skyline." With interiors designed by GA Group, water features by Wet, and landscaping by SKS Studio and 40North, "the unique building reflects the once in a lifetime experiences guests will have inside," says Managing Director of Atlantis Dubai Tim Kelly.
Read the full article from Sleeper Magazine here.