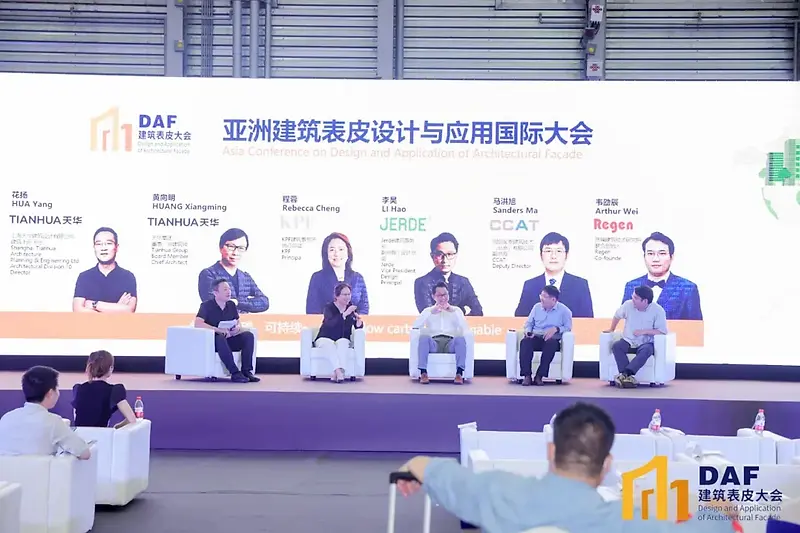 Rebecca Cheng Presents at DAF Conference
On September 20th, the KPF Principal spoke on a panel at the Shanghai Design and Application of Architectural Façades (DAF) conference about the importance of sustainable, low-carbon designs in the industry.
The theme of this year's conference, "Green, Low-Carbon, and Sustainable," focused on urban revitalization and digital approaches to building façade designs. Rebecca is currently working on Shanghai North Bund Center in the 91 Neighborhood. The project, which broke ground earlier this year, utilizes low-carbon and sustainable design strategies to ensure environmental protection.
Rebecca was joined by Huang Xianming, Chief Architect at Tianhua; Li Hao, Vice President at Jerde; Sander Ma, Deputy Director at CCAT – Façade Consultant; and Gavin Xue, Co-Founder of Regen – LEED Consultant. Hua Yang, director of Architectural Division 10 at Tianhua moderated the conversation.
The conference was hosted by Shanghai Exploration & Design Trade Association, The Architectural Society of Shanghai China Professional Architectural Façade Committee and Real Estate Industry Chain Alliance Innovation Academy. Support for the conference was provided by AIA Beijing, AIA Shanghai, and RIBA, along with seven other local associations.
The conference ran from September 19th to 21st. Events were held at the Shanghai New International Expo Center. Learn more here.