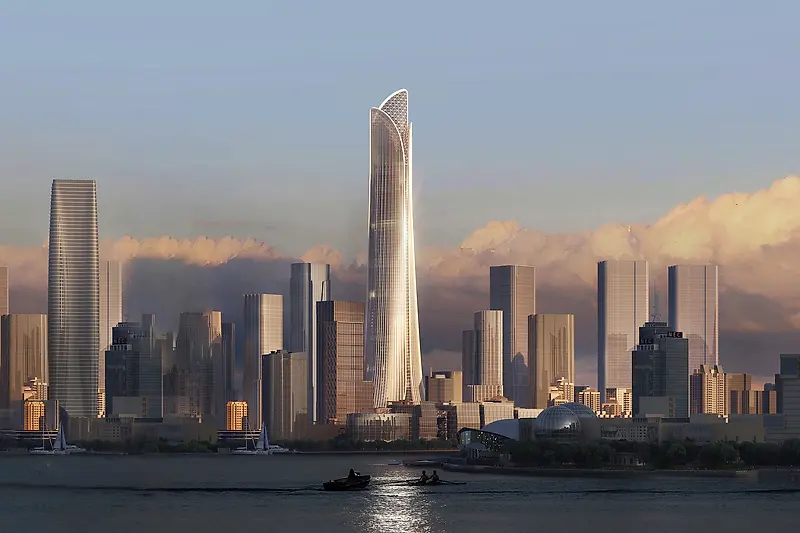 480-Meter Shanghai North Bund Centre, Puxi's Tallest Building, Breaks Ground
On March 24th, KPF celebrated the milestone for the new supertall tower in a ceremony commencing a new phase for the greater North Bund development.
In Shanghai's Hongkou District, a commencement ceremony was held for the KPF-designed Shanghai North Bund Centre, located in the 91 Neighborhood. Members of the KPF team, including President James von Klemperer and Principal Rebecca Cheng, were in attendance, along with Guo Fang, member of the Standing Committee of the Shanghai Municipal Party Committee, Deputy Mayor, and Secretary of the Hongkou District Party Committee, among others.
Chen Qiongchan, Deputy Secretary and Deputy Director of the North Bund Development Office, said "The rising of the landmark building marks the beginning of a new round of developments for the North Bund." In his speech, he also shared that Shanghai North Bund Center will become the tallest building in Puxi upon completion. The total construction area of ​​the project spans 450,000 square meters, and the project is scheduled for completion in 2030, which aligns with the completion of the greater North Bund development.
In addition to its groundbreaking, the design of the tower was also revealed. The landmark building rises 99 floors (with four levels below-grade) and is designed as a "vertical city," housing various programs including office, hospitality, and sightseeing attractions, with the top of the tower open to the public. The crown's form resembles a magnolia, the city flower of Shanghai. Close attention is paid to the integration of this super high-rise building into the surrounding neighborhood, while low-carbon and sustainable design strategies ensure environmental protection. The tower will serve as an extension of the Lujiazui complex and its existing commercial buildings in the North Bund, attracting top-tier enterprises to create a new mixed-use hub for business, living, and tourism. The architecture, design, construction, and operation teams are made up of best-in-class local and global experts.
In 2021, the site was acquired by Shanghai Industrial Development Co., Ltd., Shanghai City Investment (Group) Co., Ltd., and Shanghai Construction Engineering Group Co., Ltd. in a consortium. That same year, the landmark project publicly solicited global design proposals. After several rounds of competition, KPF, alongside local architect East China Architectural Design and Research Institute, won the bid.