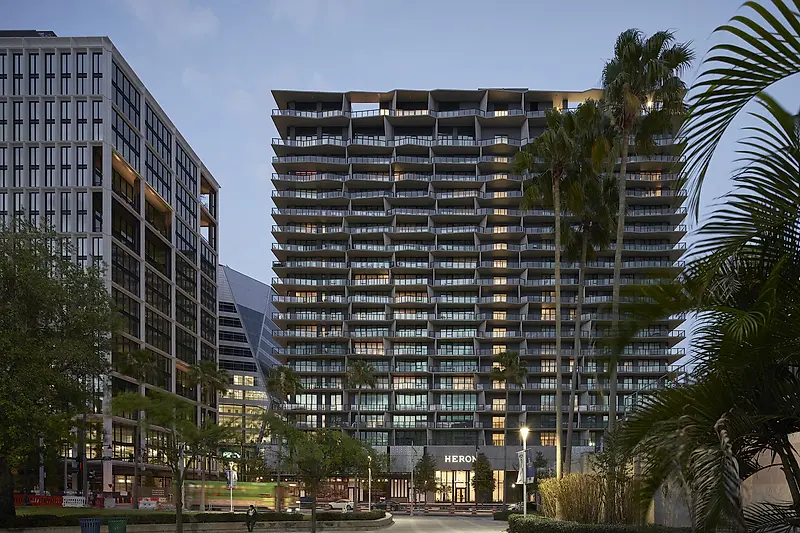 Jonah Hansen Discusses Residential Design Trends with Bisnow
On August 30th, the KPF Director spoke on a panel at South Florida's Architecture and Design Summit.
As part of the "Designing for Luxury" panel, Jonah discussed current trends and future forecasts for architecture in Florida and beyond. Jonah is currently working on a project in Miami, and was instrumental in the delivery of Heron, a pair of residential towers connected by a podium located in Tampa, which opened fall of 2021. The project includes 420 rental units and amenities including fitness centers, lounges, rooftop club rooms, and outdoor rooftop swimming pools. Located at the beginning of the city's famed Riverwalk and the new Water Street Tampa neighborhood, the building offers residents a downtown location with a walkable urban lifestyle. Jonah's work on other residential projects in cities like Philadelphia, Arlington, and San Francisco inform the national perspective he brings to the panel discussion.
Jonah was joined by Kobi Karp, President, Kobi Karp Architecture & Interior Design; Reinaldo Borges, Principal, Borges + Associates Architects; Pinar Harris, Principal & VP, SB Architects; Giovanni Medina, Associate Senior Designer, OBMI; and Chad Oppenheim; Principal, Oppenheim Architects.
The Bisnow Summit took place on August 30th at the JW Marriott Miami. Jonah spoke on the first of two panels of the day, beginning at 2:00 PM. Learn more about the event here.