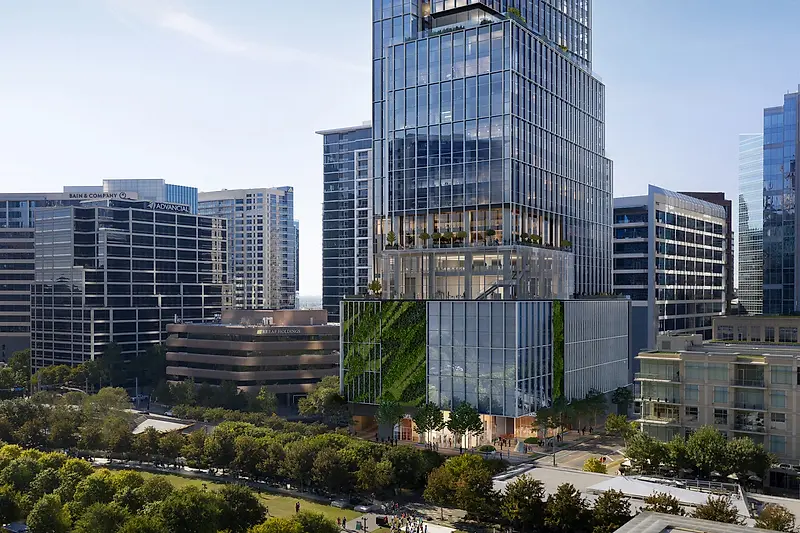 Bank of America Signs on as Lead Tenant of Parkside Uptown
The Dallas Morning News reports that the bank is relocating to the KPF-designed tower, occupying 238,000 square feet overlooking Klyde Warren Park.
Previously residing in the 72-story Bank of America Plaza on Main Street, the company is relocating to Parkside Uptown, a 30-story office tower in in Uptown Dallas, bordering both the Arts District and Victory Park. Upon becoming the building's signature tenant, Jennifer Chandler, Bank of America's Dallas President, shared, "this site overlooking Klyde Warren Park, amid an abundance of walkable Uptown Dallas amenities, is an ideal space to bring our team together in a central location where they can collaborate on behalf of our clients."
Designed to humanize the office building typology, the project features an amenity-filled podium, a sky lobby, and tenant-only fitness facilities. "This project's start is a testament to Bank of America's commitment to providing its employees with a best-in-class workplace in an unbeatable location," Eric Hage, KDC executive vice president for development, said in a statement.
Developed by KDC and Pacific Elm Properties, construction is scheduled to start before the end of the year, with the opening slated for 2027.
Read the full article from The Dallas Morning News here.
This is the third major lease signed in a KPF-designed building in the last 12 months, following Franklin Templeton's decision to take space at One Madison Avenue, and UBS relocating its Washington D.C. office to 17xM.