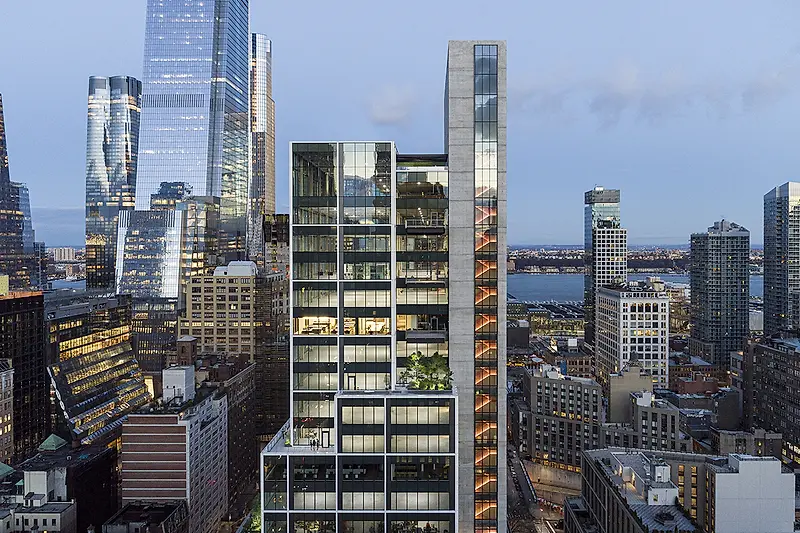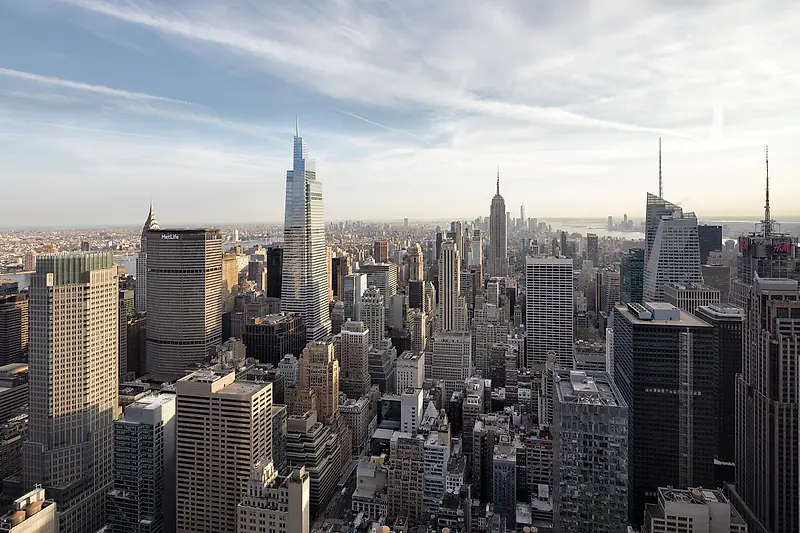 Archtober Hosts Tours of Hudson Commons and One Vanderbilt
On October 30th, KPF Principal Lauren Schmidt led an in-person tour of the repositioning project as part of Archtober's Building of the Day series. Also, listeners went behind the scenes at One Vanderbilt with an audio tour from James von Klemperer available on Archtober's Guide in the Bloomberg Connects app.
Hudson Commons
Each day of the month, Archtober featured one to two projects as the festival's Building of the Day, with public tours led by the architect. The last Sunday of the month, Lauren, one of the project leaders, guided attendees through Hudson Commons, highlighting the design choices and technical challenges involved in the project. The building, now home to Peloton and Lyft, is comprised of a renovated eight-story warehouse with a new, 17-story building above. Over 85% of the existing building's envelope and structural elements were reused. Additionally, the team achieved an 80% diversion rate of construction and demolition debris. Viewers experienced the lobby, lounge, typical office floors, the triple-height penthouse and adjacent outdoor space, and the Peloton office space and terrace during the tour.
Building of the Day tours are the centerpiece of Archtober. With the goal of making exemplary architecture and the work of architects more accessible to the general public, the tours provide a platform for engagement in important issues in the New York City built environment. The tour of Hudson Commons took place on October 30th from 12:00 to 1:00 PM. Learn more here.
One Vanderbilt
In the new Archtober Guide in the Bloomberg Connects app, Jamie narrated an overview of the design intent behind One Vanderbilt, a previous Building of the Day. Listeners learned about the project's connection to Grand Central Terminal and other transit-oriented features, major architectural moves, SUMMIT One Vanderbilt's "Air," designed by Kenzo Digital, and more.
Archtober's Guide on the free Bloomberg Connects App is for anyone interested in connecting with architecture and design. Whether you are an architectural historian, a design enthusiast, a student, or someone having their first architecture experience, the Archtober Guide is designed to help you explore notable contemporary and historical sites across New York City's five boroughs. Download the free Bloomberg Connects app here.
The Archtober festival spanned the month of October and celebrated New York's architecture and design through activities, programs and exhibitions. This was KPF's 4th year participating in the event.