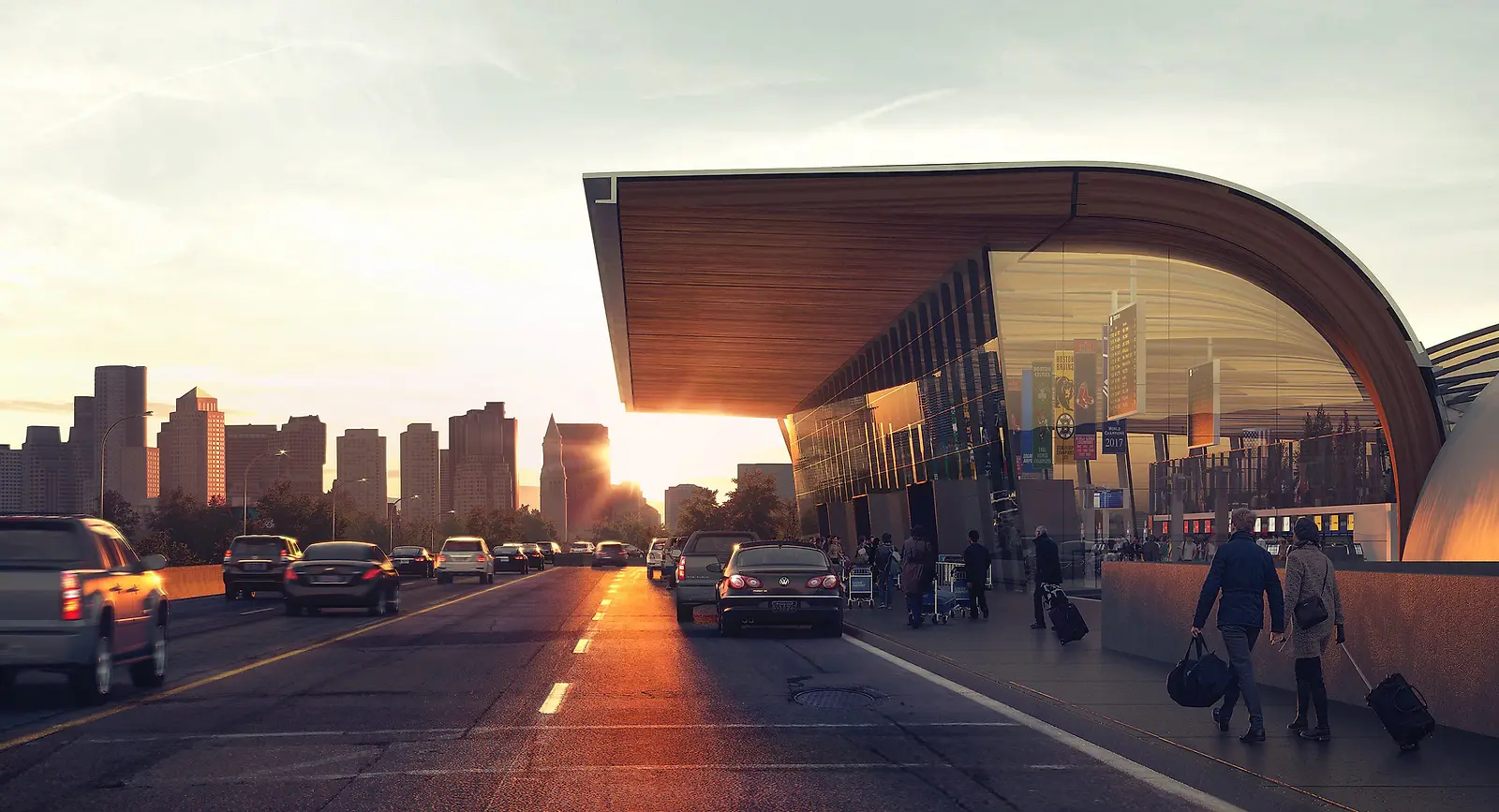 Logan International Airport
Terminal E Modernization
Our design for the Logan International Airport Terminal E modernization channels the past history, present innovation, and future sustainability of Boston: a city that marries global influence with an intimacy of scale. It wholly reimagines the airport experience to make it as enticing as the destination itself.
The warmth and openness of the design reflect the city's cultural history, specifically the importance of its harbor. Vertical and horizontal beams made of glulam wood echo the strength, solidity, and craftsmanship of historic naval ships. With their organic materiality, the curved, vertical ribs form graceful arcs that welcome nature to the interior. Floor-to-ceiling glass introduces natural lighting and frames a spectacular view of downtown Boston, relating the contextual design to the waterfront skyline.
With peak traffic loads to increase significantly over the next decade, the project's innovative planning accommodates both immediate and future needs and improves the passenger experience by seamlessly maintaining access to the existing terminal, alleviating congestion and wayfinding, and highlighting visual connections to Boston during both the arrival and departure stages. The unique "hull" shape, curving roof, and glass entry wall create an intuitive flow that leads passengers from check-in to the central atrium. The layout of the main concourse minimizes walking distances and maximizes use of retail and concessions to generate revenue. Elevated walkways overlook the gates and lead to a two-story baggage claim, bringing the FIS process above ground and pulling the circulation corridors away from the waiting areas. These elements remain highly flexible and easily adaptable to future needs while also enhancing the passenger experience and celebrating, in particular, the arrival into Boston. 
Terminal E presents a model of sustainability with strategies such as advanced photovoltaic systems, energy recovery and high performance conveyance systems, and a target 40% potable water use reduction from baseline. Additional design features both address and utilize environmental conditions. While the large-paneled glazing prioritizes natural light, the draped roof's horizontal overhang protects from the high summer sun and shelters the entryway from adverse weather. External vegetation collects and infiltrates rainwater and contributes pleasant green space. Overall, the high-performance building envelope is outfitted with features that would meet or exceed certain energy efficiency requirements, securing the terminal's commitment to a sustainable future.