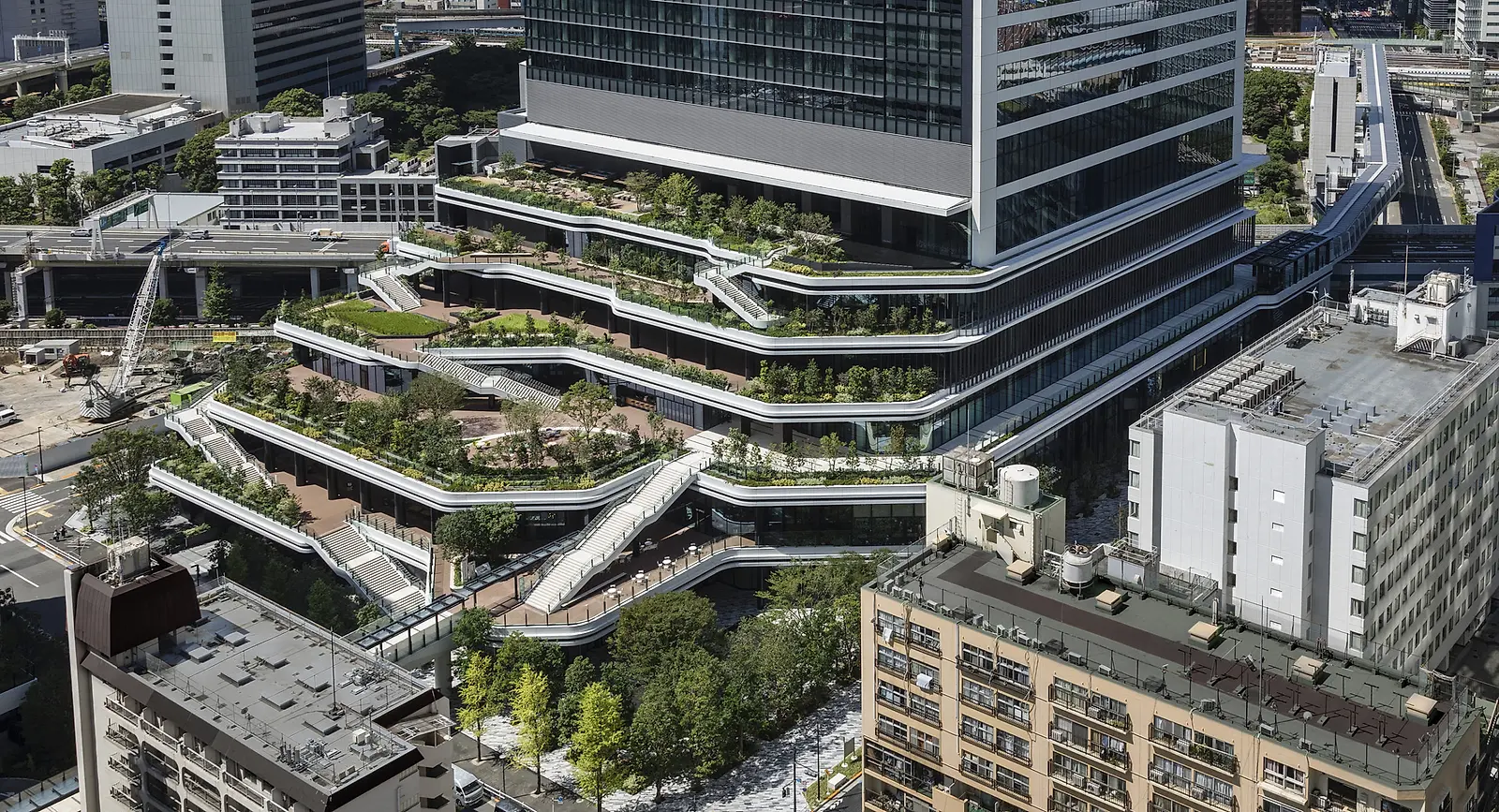 Tokyo Portcity Takeshiba
SoftBank Headquarters
Situated on a site between Tokyo Bay and the urban core, Tokyo Portcity Takeshiba prioritizes wellbeing, integrating nature with office space and public amenities to create a hub for commercial activity and play.
Creating a distinct silhouette on the skyline, Takeshiba regenerates and transforms its neighborhood. Conceived as a waterfront city, the project is part of a KPF-designed master plan positioned in the Minato district at the edge of Tokyo, where urban fabric and natural surroundings converge.
Two neighboring historic gardens, Hamarikyu and Shibarikyu, inspired the project's façade, which uses streamlined material elements to embrace harmony and simplicity. The podium's stone and bronze ground the design in its context, while stainless steel and glass create lightness and contrast, echoing the natural surroundings while maintaining functionality. Drawing ideas from the nearby parks, biodiversity-protecting foliage is planted inside and out, and vegetable gardens give opportunities to physically connect with nature. Cutting-edge smart building technology shares information like climate and crowd levels with occupants.
Takeshiba ushers in the public realm, connecting directly to Hamamatsuchō train station via pedestrian bridge. The tower sits atop an ocean-facing stepped plinth, where warm-toned walkways juxtapose strikingly with generous greenery. Within the podium, a triple-height atrium links all three retail floors, creating a dynamic flow that draws visitors inside and upwards onto the stepping terraces. The sky lobby offers floor-to-ceiling views of the bay, and an extensive water feature reflects natural light, playing off of the space's flora and cooler palette anchored by solid dark stone volumes.