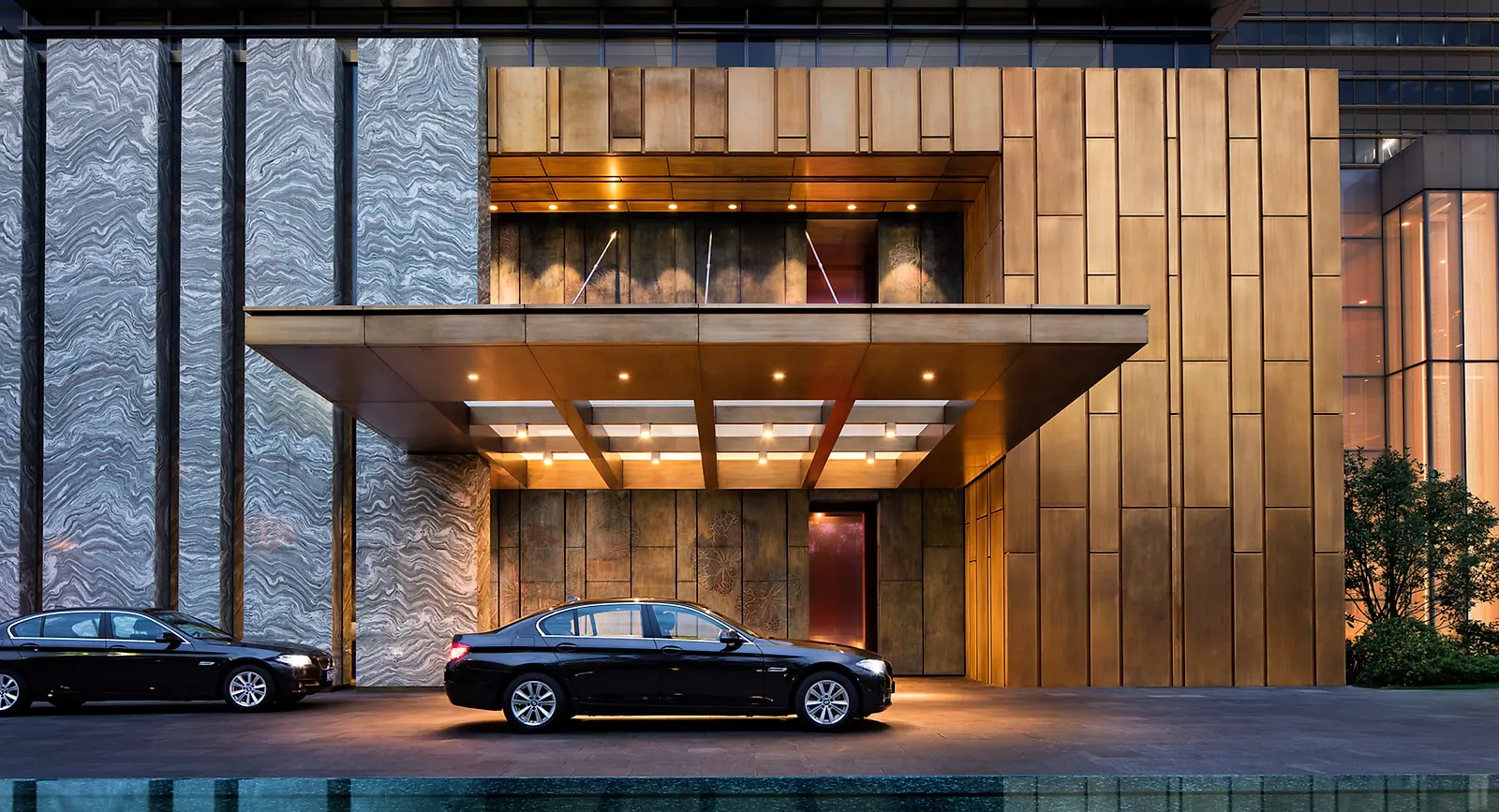 Echoing the dramatic rock outcroppings of Hangzhou's famous mountain ranges, the Hangzhou Park Hyatt development blends history and business, activating the CBD through five towers arrayed to embrace the diagonal river valley below.
Named one of the seven ancient major capital cities in China, Hangzhou is held on three sides by mountains, with the Qiantang River and Hangzhou Bay forming the fourth border. Feng Shui says this meeting of mountain and water generates nourishing energy. Leveraging the history and formation of the site to activate and inspire the development, the Hangzhou Park Hyatt mixed-use development presents distinctive architectural forms and a wide array of high-end amenities. Comprised of three commercial office buildings, a mid-sized office building, and the landmark hotel tower, the buildings prioritize expansive views for office tenants and hotel guests alike.
The five towers are articulated as stacking blocks, topped with green planted roofs and terraces for public and private use, creating intimate urban spaces above the city. The stacking forms of the tower faces feature an incremental range of tonal shifts, subtly suggesting natural rock striations. The landscaping of the roof-top terraces on the podium is inspired by the terrain found in regional tea and rice plantations.
The low-rise podium of the buildings suggests the cultivated foothills to complement the tower forms. The overall volume is modulated into a dense fabric of rectangular blocks of varying elevations that decrease in height from front to back and ultimately meld with the landscaped park that borders the northern and eastern edges of the site. The Park Hyatt hotel tower anchors the line of buildings, catering to business travelers and leisure guests. The 200-room, 5-star hotel features a ballroom, meeting rooms, restaurants, bars, rooftop gardens, an atrium lounge, and private dining rooms.