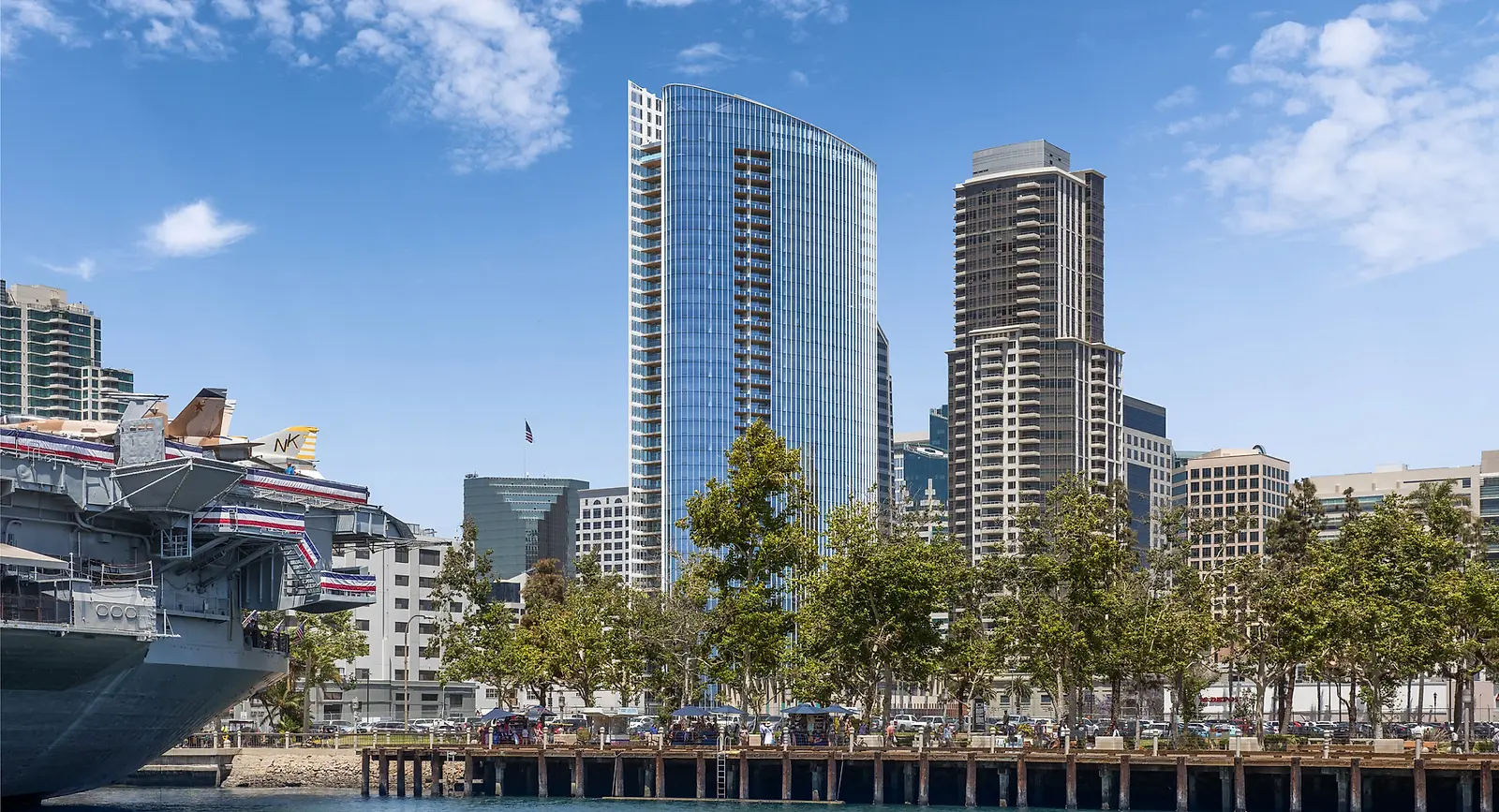 Pacific Gate is designed as a landmark tower and gateway to downtown San Diego, complemented by thoughtful landscape elements that enhance pedestrian life and communicate with its neighborhood and city.
The tower, a 41-story, oval-shaped structure with uniquely curved glass, soars upwards with an angled roof line creating a distinctive skyline presence. Its east-west orientation minimizes exposure to western sunlight while maximizing the downtown view corridor towards the waterfront. A spiraled floor layout preserves balcony space for each unit. Vertical, painted metal fins accentuate the tower's verticality and help to enhance energy performance by blocking solar heat from direct sunlight.
A three-story podium lining the development's south side continues the curvature of the tower, shifting in street wall height from 35 to 55 feet. It houses double-height commercial spaces on the ground level and residential units and amenity spaces on the floors above. The residential entrance on West E Street curves with the podium wall, forming public spaces along its Pacific Highway front. Warm, beige limestone echoes the palette of the historic downtown.
Meticulous landscaping plays an important role on the ground plane, on various roofs of the podium, and at the top of the tower. On the fourth level, a large, resort-style pool deck is protected from wind and noise by the same spiraling glass and limestone walls, relating the podium's architectural language with the tower's angled top. A covered walkway along the activated Martin Luther King Promenade opens to a view to the residential entrance court. The public plaza along Broadway offers a public shelter with its rows of tall palm trees, a variety of plantings and seating while commanding visual interest with active water features, lighting, and large-scale public art.