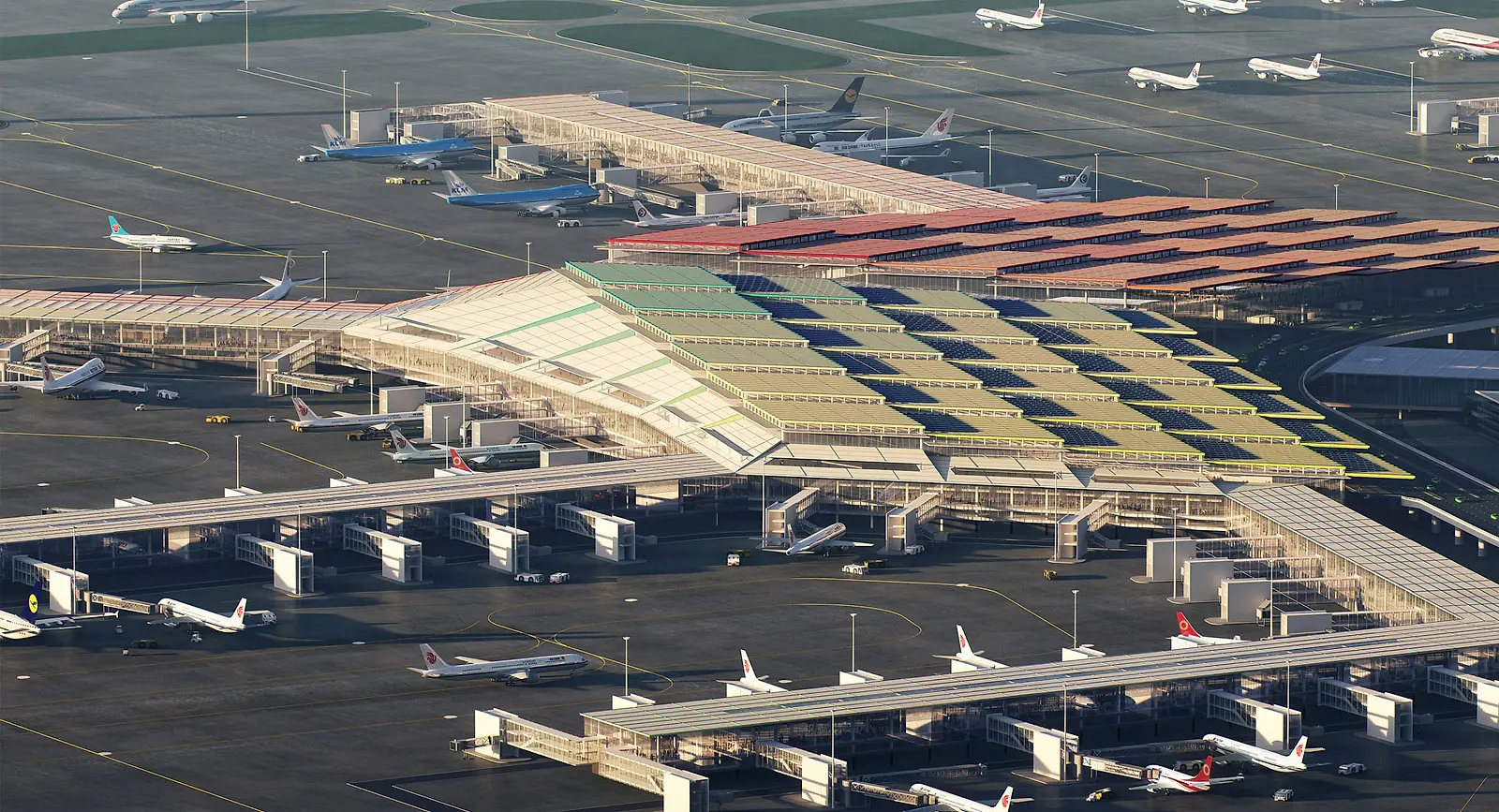 KPF's competition design combines the airport's ambition to become the leading hub of domestic air travel in China with critical attention to the passenger experience and Chengdu's local culture.
Required to accommodate 40 million passengers annually, Chengdu New Airport fuses the needs of modern air travel with the area's historical character, in particular, its proximity to and affinity for nature. This translates to a proposal that balances design innovation, passenger experience, and sustainability through architecture that is confident in its simplicity.
Boasting simple geometry, the master plan and terminal design ensure efficient airside operation alongside retail development and flexible space for the site's future growth. Two distinct processors become one terminal: a symmetrical form with a sloping grid roof that recalls Chengdu's rolling landscape. From an aerial view, these processors also boast individual color patterns. Red-gold and blue-green gradients echo the festive spirit of the city like a fantastical, fabric brocade.
The terminal's skewed angles on either side of entry allows optimal curb front drop off and minimizes walking distances. "Channelized" circulation creates two paths that divide and simplify movement through the airport, anchored by a majestic hall with ample retail opportunities and a dramatic lounge space with panoramic views. Distinct wayfinding elements are fully integrated throughout the interiors, further emphasizing the terminal's rational layout with nodes of social activity within waiting areas.
Modularity and passive design strategies define the airport's sustainability agenda, with greenery and landscaping that further contribute to its unique ambition. Structurally efficient, the terraced roof grid permits natural light alongside clerestory windows that offer thermal efficiency. A bold, centralized garden brings the life-sized environment inside, offering a tranquil reprieve from the commotion of the airport.