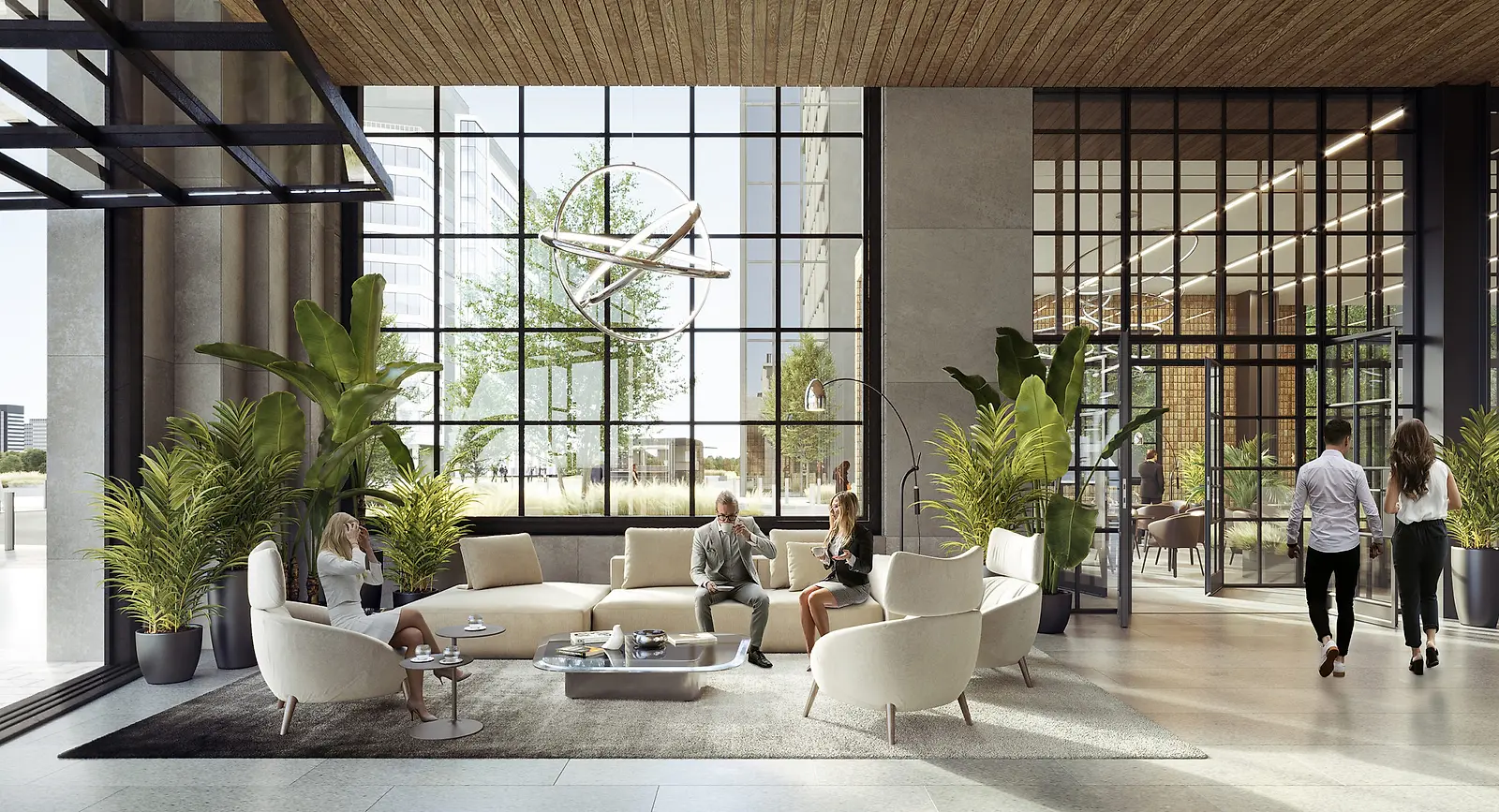 Rising above Downtown Columbia's tree line in the heart of the Merriweather District, 6300 Merriweather integrates natural and recycled materials, passive cooling strategies, and an efficient envelope to create a highly sustainable and competitive office tower with a design akin to a modern tree house.
A steel frame system with Cross Laminated Timber floor slabs comprises the structure of the tower, reducing the overall carbon footprint of the building and offering an exposed wood ceiling finish at each level. The façade features high-performance glass, painted aluminum, and vertical piers consisting of recycled masonry. The arrangement of these elements reinforces the project's "tree" thesis, where the vertical masonry piers located at the center of the façade are densely packed, which transitions to glass as the façade extends to the corners of the building.
The 14-story building is located near the intersection of Merriweather Drive and Symphony Woods road, an easily accessible site from the East Coast's main interstate, in addition to local routes. The first two levels are dedicated to retail and amenity programming, with a through-lobby that allows for two distinct entry points and flexible branding opportunities for tenants in the building. Retail space can be found on the west side of the plan, responding to the existing shopping center along Valencia Lane. Above the podium, a variety of terraces are located across the building's four corners, spanning one to two stories. These terraces are made possible through a center core configuration, which also creates multiple leasing depths to fulfill the needs of a variety of tenants.
The building is targeting LEED Platinum certification and features operable windows to allow for natural ventilation to supplement the HVAC system, reducing energy costs.