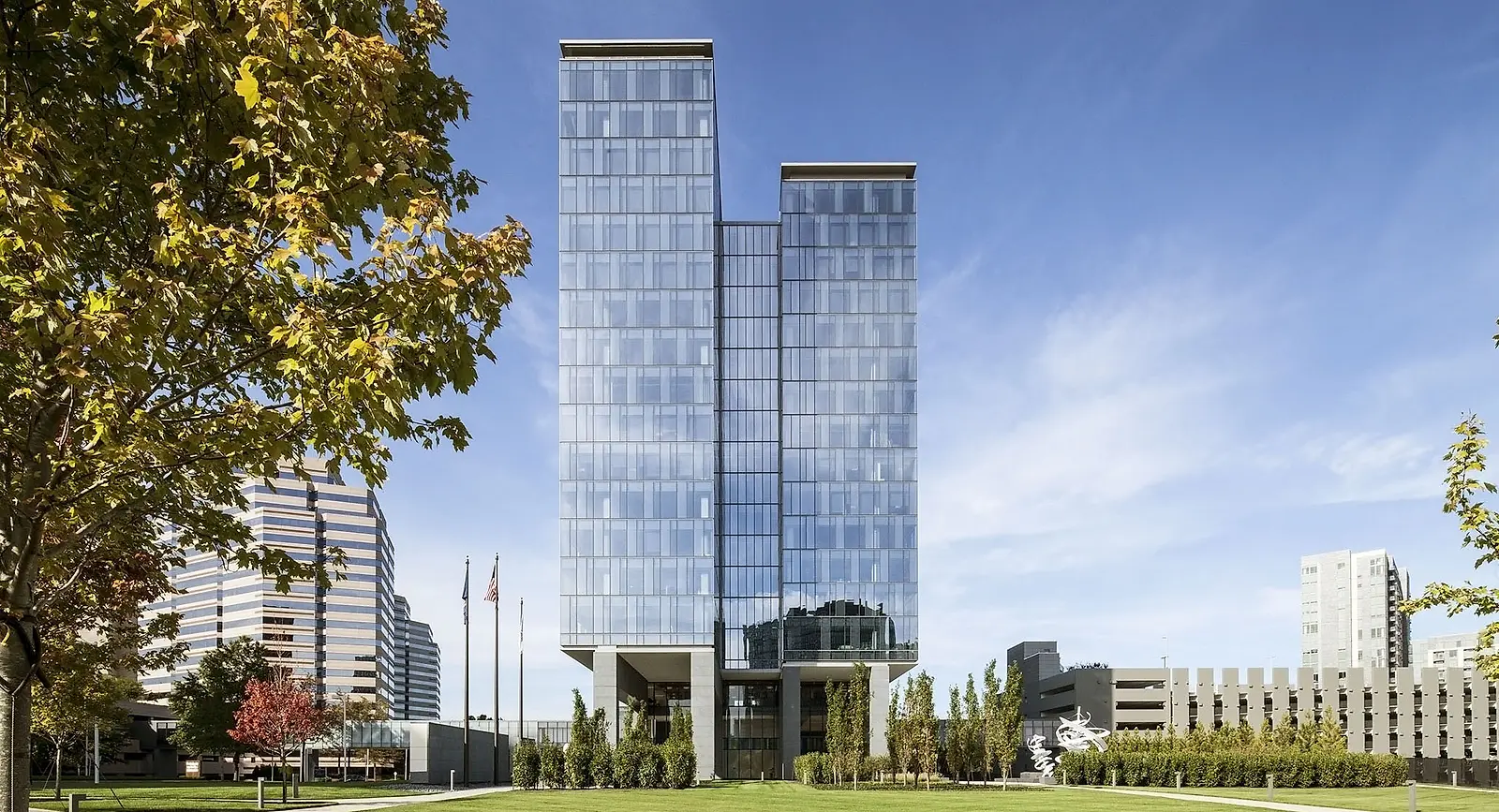 1775 Tysons Boulevard
Corporate Office Center at Tysons II
A crisp and elegant office building, 1775 Tysons Boulevard represents a major step forward in the development of the master plan at Tysons II in Tysons, VA.
Providing state-of-the-art, Class A office space, 1775 Tysons Boulevard uses technology and sustainability features that make it a dynamic, forward-thinking building for the future of the Tysons development.
A lean and sophisticated figure 'H' with offset vertical bars, the design places 15 floors of office space, totaling 476,000 square feet, above a two story glass-enclosed lobby and retail center. Directly above the podium, the third floor is cut back to the inner column-line, creating a strong reveal in the building's form and providing a large external terrace for tenants.
Other building amenities include a 1,600 -square-foot conference center, 5,100 square-foot health club, a one-acre landscaped central park, and a 1250-car parking garage.
The scheme also incorporates an enclosed pedestrian sky bridge that connects the new parking structure to the lobby and continues through the building and over Tysons Boulevard to an existing parking structure as well. Translucent panels on the bridge create a veil which conceals yet defines the structure while acting as a gateway to the complex.
With the goal of achieving LEED Platinum Certification, the façade design follows the latest stringent energy codes, establishing a unique aesthetic both inside and out. On the office walls, three-foot-wide vertical translucent panels occur every 10 feet and span floor-to-ceiling, creating a staggered pattern that emphasizes the building's rectilinear form. During the day, these panels let in soft, diffused light to the interior while at night they turn the building into glowing beacon visible for miles, providing the surrounding community a new landmark.