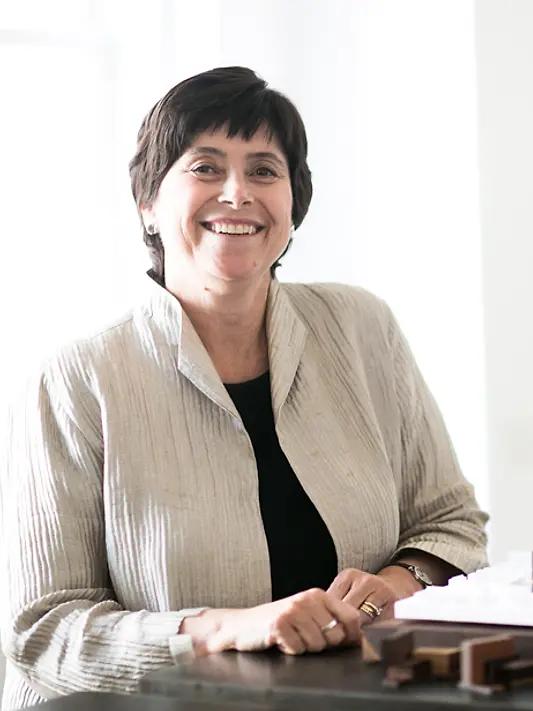 Jill N. Lerner
With over 40 years of design and management experience, Jill Lerner has led the design of numerous award-winning academic and institutional research facility projects for public and private clients throughout the United States. As a Principal at KPF, she is responsible for all aspects of project management and design and is the primary client contact during all phases—from initial programming and conceptual design through construction and project close-out.
Academic facilities projects completed under Jill's direction include the Chapman Graduate School of Business at Florida International University, Huntsman Hall at the University of Pennsylvania's Wharton School of Business, and a new multi-use facility for New York University's School of Law. Of note, she oversaw the KPF design teams responsible for the new Stephen M. Ross School of Business at the University of Michigan-Ann Arbor, and the Newman Vertical Campus mixed-use academic complex at City University of New York's Baruch College.
Jill's research and institutional work include the new Advanced Science Research Center at the Graduate Center, CUNY; a science research center at the Methodist Hospital in Houston, Texas; and the expansion of the Children's Hospital of Philadelphia, ranked as the number one children's hospital in the United States by U.S. News and World Report.
Jill has also led master planning efforts for several academic and research facilities, including the University of Chicago's Graduate School of Business, the Walter B. Ford College for Creative Studies, and the Semel Institute and Center for Health Sciences at the University of California-Los Angeles.
In 2019, Jill was appointed to the New York City Climate Advisory Board enacted by Local Law 97, one of the most ambitious plans for reducing emissions in New York City. An active member of the architectural community, she was President of the AIA NY Chapter in 2013, and is currently a Board Member of the Urban Green, the New York City arm of the USGBC and is on the External Advisory Board of the Atkinson Center for a Sustainable Future. An active member of her alma mater, Cornell University, Jill was the only architect on the Cornell University Board of Trustees (2004-2009), is past Chair of the University's College of Architecture, Art and Planning Alumni Advisory Council and is an active member of the President's Council of Cornell Women. She has also taught Professional Practice to architecture students in Cornell's New York City program.
Jill is a registered architect in several states.