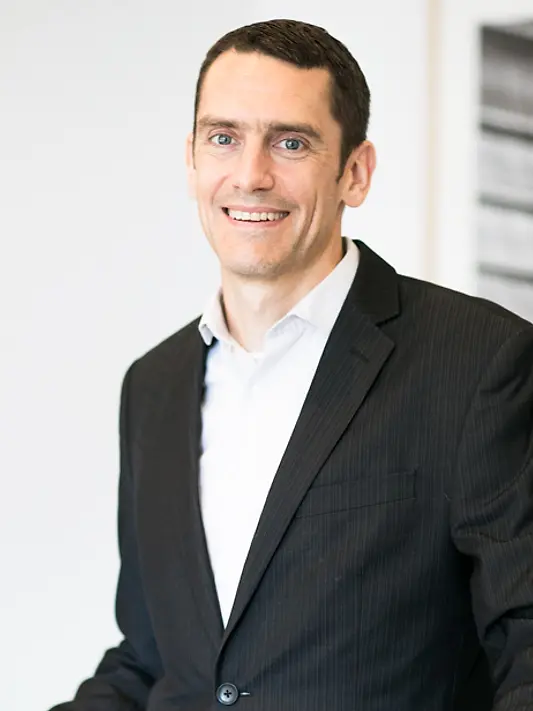 Devin Ratliff
Devin Ratliff has over 18 years of professional experience as a Project Architect, Job Captain and Project Manager with particular expertise in coordinating multi-disciplinary design teams. Since joining Kohn Pedersen Fox in 1999, he has worked on a number of high-profile corporate, office, hospitality and institutional projects in New Jersey, New York and around the United States. Devin has experience using state-of-the-art BIM technology and has extensive experience applying sustainable design strategies to complex, program-driven projects. He is an in-house sustainability and LEED resource, providing education, expertise, and review of project designs in the New York office.
Devin's management experience includes the new Prudential Newark project in New Jersey. Located on a prominent site that faces Broad Street and overlooks Military Park, Prudential Newark will strengthen the city's downtown core, providing a state-of-the-art LEED Gold office building for more than 3,000 employees, redefining the western edge of Military Park, activating the streetwall along Broad Street, and setting a high standard for sustainable development in the area.
Devin served as Project Manager for Centra Metropark, which was awarded a National AIA Award, the Institute's highest honor, in 2013. KPF's design for the renovation of the five-story, 110,000-square-foot Centra office building transformed an outdated call center into a state-of-the-art LEED Platinum building and set a new standards for office campus design. Also in New Jersey, he is the Project Manager for Realogy's new headquarters at 175 Park Avenue in Madison, which is targeting LEED Platinum Certification and is currently under construction.
As Project Manager for the Conrad New York repositioning project, Devin led a large, multi-disciplinary team in the transformation of a 10-year-old Embassy Suites hotel into a new luxury destination hotel in New York's Battery Park. The 612,000-square-foot project includes 463 hotel rooms, is LEED Gold certified, and was named ALIS Development of the Year in 2012.
Devin's commercial office tower experience includes the 960,000-square-foot, 38-story Ernst and Young Headquarters in New York's Times Square for Boston Properties. Bounded on three sides by active subway lines and an historical landmark theater on the fourth, his contributions included documentation and full-phase construction administration services through completion for this fast-track project.
Prior to joining KPF, Devin worked with Buck/Cane Architects in New York, where he served as a Project Architect on several office and private school renovations. A Registered Architect in the State of New York, Devin is an active member of the AIA and a LEED Accredited Professional (AP).