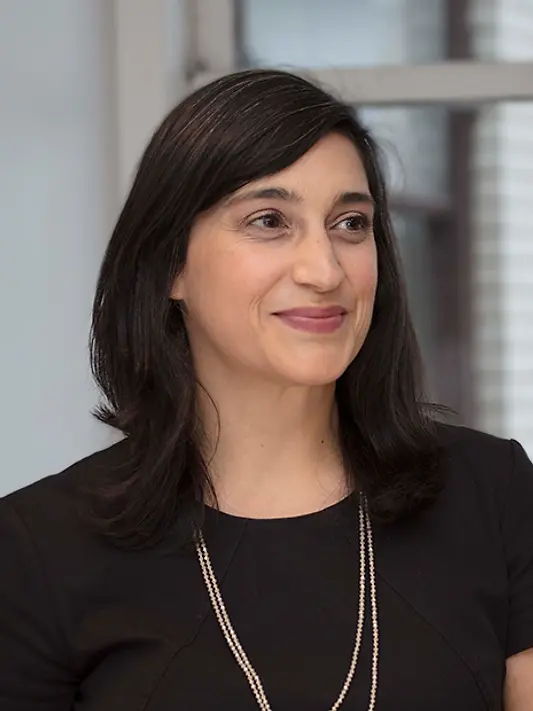 Claudia Cusumano
Since joining KPF in 2001, Claudia has honed her focus on program-driven developments in the United States. She has been involved in a number of projects from conceptual planning and design through construction. Throughout over 25 years of experience, Claudia has positioned herself as a strategic leader in the firm across civic, cultural, institutional, interiors, and commercial office projects.
Claudia is well-versed in New York's real estate landscape, specializing in the repositioning of buildings to best fulfill client needs. At the Meta offices within the landmarked James A. Farley Building, previously a major U.S. post office that had been adaptively reused as a mixed-use office building, Claudia was the Project Manager, coordinating with the client to celebrate the building's history while reinventing the workplace to meet the needs of the company. She continued this client relationship at an additional interiors project in Hudson Yards, collaborating with another firm to adapt Meta's campus-scale model and standards into bespoke designs that meet the brand's guidelines within a high-rise building.
From cultural institutions to skyline-defining supertalls to academic innovation centers, Claudia has led the management and coordination of projects from concept through construction. She played a guiding role as the Managing Director of 30 Hudson Yards, the Manhattan neighborhood's tallest tower at approximately 1,300 feet, home to the highest observation deck in the Western Hemisphere. Also in the role of Managing Director of The University of Michigan's Center for Innovation in Detroit, Claudia worked with the client to expand the institution's reach, putting science and technology on display.
Claudia is passionate about mentorship in architecture and participates in various programs including WAIA's mentorship program and the Architecture League. She leads KPF's formal mentorship program, which has global, firm-wide participation at all levels.