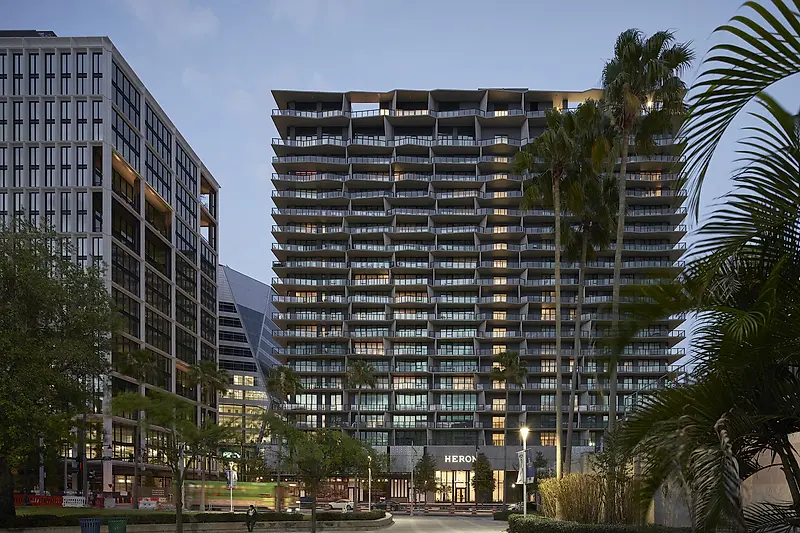 Water Street Tampa Wins ULI Americas Award for Excellence
The walkable waterfront neighborhood in Tampa, home to KPF-designed Heron, was one of ten projects honored in the Urban Land Institute's national program.
Water Street Tampa, the world's first WELL-certified neighborhood, revitalizes the city's downtown, improving walkability and accessibility to the waterfront. Developed by Strategic Property Partners, Water Street Tampa spans 32 acres, with Elkus Manfredi and Reed Hilderbrand serving as planners. KPF's contribution to the development, Heron, is a multi-family rental residential building, comprised of two towers connected by a retail podium. The project marks the beginning of the famed Riverwalk and graciously extends the promenade, welcoming visitors with retail shopfronts, tree-lined paths, and outdoor seating. Notably, KPF was the last architect selected to design a building as part of Water Street Tampa but the first to deliver a project as a result of quick decision-making, an efficient design with minimized cladding, and the work of KPFui, the firm's in-house research and design team. Learn more about Heron's design, urban, wellness, and sustainability features here.
The ULI Americas Awards for Excellence program recognizes outstanding real estate development projects, related programs, and visionaries in urban development. A panel of industry experts evaluates projects based on achievements in marketplace acceptance, design, planning, technology, amenities, economic impact, management, community engagement, innovation, and sustainability. View all the 2023 winners and finalists, including Hudson Commons, here.
Last year, One Vanderbilt was named a finalist in the 2022 program.