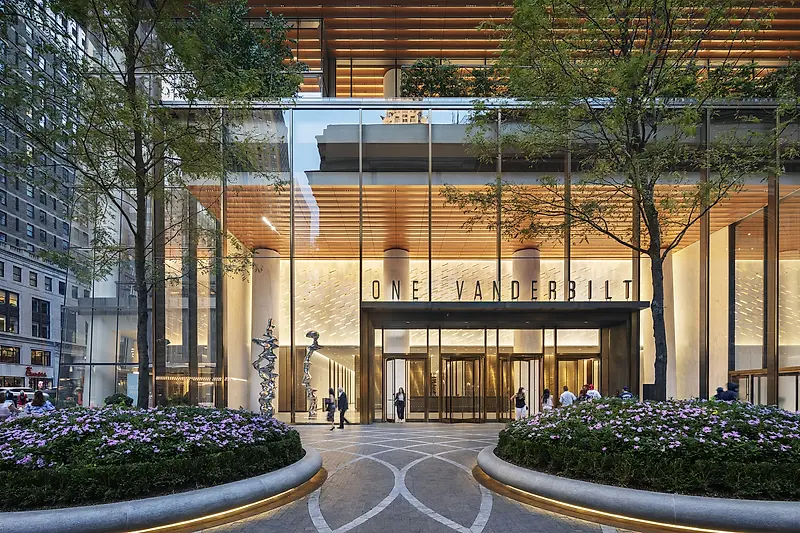 One Vanderbilt Selected as a Finalist in Urban Land Institute Americas Awards for Excellence
The Manhattan supertall, which features a direct connection to Grand Central Terminal, is now in consideration for the top prize.
Midtown's tallest office building, One Vanderbilt is the first project completed as part of the district's rezoning and represents a revitalization of the neighborhood. In addition to offering state-of-the-art workplace facilities, One Vanderbilt provides public realm benefits including a below-grade link to New York City's subway and regional transit systems, enhancements to area infrastructure relieving stress on commuting pathways, and a 14,000-square-foot pedestrian plaza on Vanderbilt Avenue.
One Vanderbilt's design pays homage to the city's most iconic towers, featuring a modern take on a layered language. Four interlocking, tapering volumes extend into the sky, reaching over 1,400 feet. A series of angled cuts at the tower's base reveals Grand Central's Vanderbilt corner—a view that had been obstructed for nearly a century. Last year, One Vanderbilt won ULI New York's Award for Excellence in Development.
The ULI Americas Awards for Excellence program evaluates projects across a number of factors, including achievements in marketplace acceptance, design, planning, technology, amenities, economic impact, management, community engagement, innovation, and sustainability.
The Urban Land Institute is a nonprofit research and education organization with a mission to shape the future of the built environment for transformative impact in communities worldwide. Award finalists are selected by a multidisciplinary jury of ULI members, including experts in development, finance, planning, urban design, architecture, and landscape architecture. Winners will be announced this summer and will become finalists in the 2022 ULI Global Awards for Excellence. Read more about the ULI Americas Awards for Excellence and this year's finalists here.