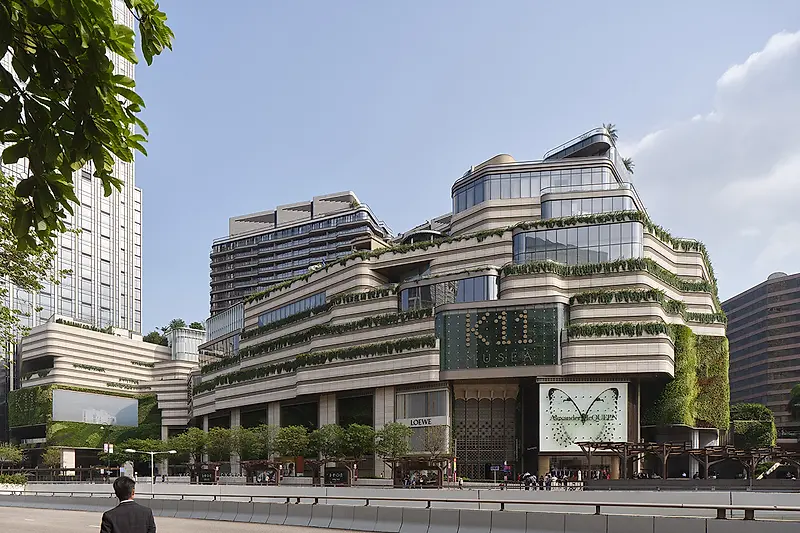 Victoria Dockside Featured in Hong Kong Sustainable Development Publication
KPF's mixed-use project was included in an ebook highlighting how architects in that city are advancing sustainable development through design.
Victoria Dockside, a vibrant, mixed-use neighborhood designed by KPF and opened in 2019, was recently featured in UN SDGs—Hong Kong Architects in Action, an ebook that demonstrates how architects in the Asian city are taking innovative approaches to meeting the United Nations' Sustainable Development Goals. The 206-page publication was produced by the Hong Kong Institute of Architects and the Hong Kong Professional Green Building Council.
One of 15 projects across a range of scales and typologies that are featured in the book, Victoria Dockside stands out for its impressive size—over 3 million square feet—and green building credentials. The project is a brand-new art and design district that connects the city of Hong Kong to the Victoria Harbor front and comprises hotel, office, and cultural buildings on one waterfront site. Of its four buildings, three are certified LEED Gold and one, the K11 Musea, is certified LEED Platinum.
Victoria Dockside supports 5 of the U.N.'s Sustainable Development Goals, but the publication draws particular attention to the project's urban greening effect, achieved through living walls and public outdoor space as well as its building-integrated photovoltaic solar installation, which is among the largest in Hong Kong. Additionally, the project achieves carbon savings through the reuse of existing architectural elements such as a seawall and basement structure.
Read the full ebook here.